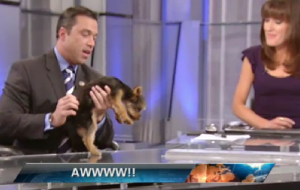 Congressman Michael Grimm really loves his dog Sebastian, and he wants you and every member of his staff to know how amazing a canine's companionship can be.  To wit, his office sent out an email this evening entitled, "Rep. Grimm Encourages Staff to Participate in Take Your Dog to Work Day on June 22nd."
But it's the rest of the press release that is the fun part.
"Every day is Take Your Dog to Work Day in my office!" Mr. Grimm happily declared. "Congress is a fast-paced, high-stress environment. Having Sebastian around helps lighten the mood for me and my staff and makes those long hours in the office a little more bearable. Today, I'm encouraging my staff to bring their dogs to work today to celebrate the joy they bring us and to show our support for pet adoption."
Mr. Grimm is well known for his love for his pooch, whom he brings everywhere. He even showcased Sebastian in a television interview on Fox Business News last year. Furthermore, he clearly is interested in the relationship between others and their dogs — one of his signature legislative accomplishments is a veterans therapy dog training bill.
The rest of the statement continues:
Rep. Grimm drives back and forth from New York to Washington, DC which makes it easy for his Yorkshire Terrier Sebastian to be with him in his DC and NY offices. Tomorrow, in Rep. Grimm's Brooklyn office, a member of his staff will be bringing her Yorkie, Valentina, to the office. In DC, a staffer will be bringing in her new Cavalier King Charles, Monkey, who has become a regular playmate for Sebastian.

Members of the media are encouraged to stop by Rep. Grimm's Brooklyn office at 7308 13th Avenue. All dogs are welcome.
Whether or not it would actually be advisable for a business or government office to pile in a copious number of canines into one building is an entirely different issue, of course.