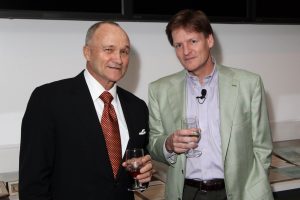 Life is hard for art-history majors. Good jobs are hard to come by. Salaries in the field are low. One of Mitt Romney's advisors hates them (which is going to be awkward if he wins the presidency). But here's a bit of good news to lift your spirits: Michael Lewis, the author of Liar's Poker, Moneyball and quite a few more bestselling books, was an art-history major himself! And he actually thinks it may have helped him in his life. At least that's what he told Princeton graduates in the commencement address he delivered to them earlier this month, which we have excerpted below. He begins by recalling how he felt at his graduation:
At that moment I was sure of only one thing: I was of no possible economic value to the outside world. I'd majored in art history, for a start. Even then this was regarded as an act of insanity. I was almost certainly less prepared for the marketplace than most of you. Yet somehow I have wound up rich and famous. Well, sort of. I'm going to explain, briefly, how that happened. I want you to understand just how mysterious careers can be, before you go out and have one yourself.

I graduated from Princeton without ever having published a word of anything, anywhere. I didn't write for the Prince, or for anyone else. But at Princeton, studying art history, I felt the first twinge of literary ambition. It happened while working on my senior thesis. My adviser was a truly gifted professor, an archaeologist named William Childs. The thesis tried to explain how the Italian sculptor Donatello used Greek and Roman sculpture — which is actually totally beside the point, but I've always wanted to tell someone. God knows what Professor Childs actually thought of it, but he helped me to become engrossed. More than engrossed: obsessed. When I handed it in I knew what I wanted to do for the rest of my life: to write senior theses. Or, to put it differently: to write books.
Head to Princeton's website for the full text and video. Good luck out there.