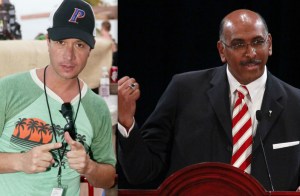 Former RNC chairman and MSNBC analyst Michael Steele is currently having a rather interesting power lunch with 90's stoner comic Pauly Shore. As we speak, the pair are sitting down to a meal at D.C. landmark Ben's Chili Bowl.
A woman who answered the phone at Ben's told us they weren't sure why the odd couple came to the restaurant together. They apparently ordered one of the restaurant's signature "Bill Cosby's Original Chili Half-Smoke" with fries and a burger with fries.
"Looks like Michael Steele had the burger," the woman said.
The Ben's menu describes the chili half smoke as a "1/4 lb. half pork and beef smoked sausage on a warm steamed bun…with mustard, onions and our spicy homemade chili sauce." According to the Ben's website, it has been a "favorite of Mr. Cosby's since the early 60's."
Mr. Shore is perhaps best known for playing the character "Stoney Brown" alongside Brendan Fraser in the 1992 caveman comedy "Encino Man." He is also known for coining several memorable catchphrases including "owwww!" and "Bud-dy." Mr. Steele is perhaps best known for his catchphrase, "Urban-Suburban Hip-Hop Settings."