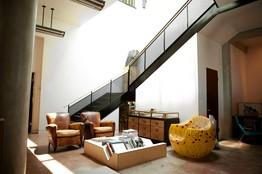 Midlife crises tend to evoke the same images: red sports cars, hair plugs, letters of resignation. But not if you're a rock star. Not if you're Michael Stipe.
After six years of presumably felicitous dwelling in his two-story penthouse loft home and studio on Canal Street in SoHo, Mr. Stipe, the former lead singer and lyricist of now-disbanded R.E.M., is calling it quits and, like most retirees, moving south. And by south we mean downtown Manhattan.
When his band of 31 years split up last September, Mr. Stipe had a revelation, a change of heart, a loss of religion, if you will.
"I wake up in the morning thinking of sculpture, not lyrics," Mr. Stipe told The Wall Street Journal. "Lyrics are too hard."
The Observer begs to differ—after all, words are our currency, Mr. Stipe—but we'll pretend like we understand. Everyone is entitled to a career change. God knows Julian Scnabel does it all the time.
The Journal says that Mr. Stipe wants to reinvent himself as a "downtown artist" and that he's looking to replace his current abode with "a large studio space where he can work on his sculptures."
We guess, when you're rich and famous, that you can do silly things like this—pack a backpack with some clay, a few blankets, and a Power Bar and downgrade to a studio apartment. But how far will Mr. Stipe take this new vagabond persona? Will he ride the subway there? Or perhaps hoof it?
And how long will it last? How soon until he starts missing his "light-flooded central atrium and glass doors" or his "industrial-style open kitchen" designed by chef and restaurateur, Mario Batali? When will he start craving a bath in his "oversize soaking tub" or a pillow fight with partner Thomas Dozol in any one of the four bedrooms? And what about Kirsten Dunst? Where's the neighborly love?
Fortunately Mr. Stipe still has some time to change his mind as the loft was only recently put on the market for $10.95 million. But whatever happens, we wish Mr. Stipe luck. In fact, we'll start clearing a spot in our office for a new work of art. As they say, nothing goes better with computers, stacks of paper, and empty coffee cups than bronze statues.