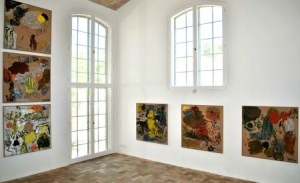 German art dealer Michael Werner is giving 130 works to the Musée d'Art Moderne de la Ville de Paris, according to a news release that just landed on our desk.
Mr. Werner—who runs one gallery in Leo Castelli's original space on East 77th Street, two in Germany, in Cologne and Märkisch Wilmersdorf, and has one in London set to open in October—is giving works by Marcel Broodthaers, James Lee Byars, Jörg Immendorff, Per Kirkeby, A.R. Penck, Niele Toroni and many more. Many of the artists represented in the donation have shown with Mr. Werner over the course of his half-century career.
In the release, the dealer, who describes himself as a "conservative anarchist," explains the reason for his gift:
It is basically a sentimental choice. It was a visit to this museum very early on in my career that profoundly changed my understanding of and relationship to art. In 1962 Georg Baselitz and I travelled to Paris to see an exhibition of Jean Fautrier at the museum and it had a serious emotional impact on me.
Fabrice Hergott, the director of the Musée d'Art Moderne de la Ville, who selected the works from Mr. Werner's collection, had this to say:
Michael Werner's gift represents the most significant enrichment of the Museum's collection since the bequest made by Dr. Maurice Girardin in 1953, which led to the creation of the institution.
The release also has a bit of nice editorial content, lauding Mr. Werner for not chasing trends like some of his competitors:
His single minded vision of continuously championing the same artists over fifty years sets him apart from his contemporaries and makes him a unique figure in the art world.