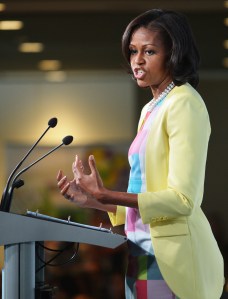 At the "2012 Women For Obama" fundraiser this morning at the Hotel Pierre the vast majority of the audience who turned out to hear First Lady Michelle Obama speak were, naturally, women.
"Are there any men here today?" Ms. Obama asked as she began her speech.
The handful of men in the crowd responded with a smattering of cheers.
"A few good men," Ms. Obama said. "There you go–stand proud. Stand proud."
The mostly female crowd apparently resulted in a long line for the women's restroom before the speech got started. The Politicker witnessed one group solved this by commandeering the men's room.
"We're using the men's room right now, we're taking it over. We have a long line for the women's room," one of them said.
Among the audience making their way into the ballroom before the event we spotted two candidates for Manhattan Borough President, Councilwoman Gale Brewer and Julie Menin, chairwoman of Lower Manhattan's Community Board. A campaign official told usPlanned Parenthood President Cecile Richard, OFA Director of Opinion Research David Simas and Mona Sutphen were also in attendance and spoke on a panels prior to the First Lady's appearance. Caroline Kennedy also participated in the panels and introduced the First Lady.
Ms. Obama's remarks were essentially her standard campaign stump speech with an added focus on women's issues. She described herself as President Barack Obama's "biggest fan" and, though she acknowledged she may be "a bit biased" said, "I think he's been phenomenal." Ms. Obama went on to say she believes this election is about restoring "that basic middle class security for our families" and "basic American values" including "wonderful schools," making sure parents and grandparents are "able to retire with dignity" and having affordable healthcare.
After setting the scene, Ms. Obama continued by telling the audience that the president needs them "to get out there and tell everyone you know about our values and our vision and everything that's at stake in this election."
"You can start by telling them how Barack fought for tax cuts for working families and small businesses," she said.
She also encouraged them to tell people that the economy is improving.
"For the past 27 straight months, we have actually been gaining private sector jobs," said Ms Obama.
Ms. Obama asked the crowd to remind people that the president got the "auto industry back on its feet again" and about the benefits of his healthcare reform.
"Because we passed health reform, insurance companies will have to cover preventative care–things like contraception, cancer screenings, prenatal care, all at no extra cost," Ms. Obama said. "You see, my husband knows that women need access to the full range of health services….And he believes that women should be able to make their own choices about their health care."
The First Lady continued by telling the audience to inform people "how Barack is working to raise the standards in our public schools and make college more affordable" and how he worked to pass the DREAM Act. She finished her list of presidential achievements by noting the "two brilliant Supreme Court justices" appointed by President Obama.
"For the first time in history, our daughters and our sons watched three women take their seat on our nation's highest court," said Ms. Obama.
She also discussed her personal experience seeing "up close and personal what being President really looks like."
"In the end, when you're making those impossible choices, it all boils down to who you are and what you stand for," she said. "See, one of the things you don't have to wonder is who my husband is."
Ms. Obama elaborated by describing President Obama's upbringing as the "son of a single mother who struggled to put herself through school and pay the bills" and "the grandson of a woman who woke up before dawn every day to catch a bus to her job at the bank."
"Even though Barack's grandmother worked hard to help support his family and she was good at what she did, like so many women, she hit that glass ceiling, and men no more qualified than she was were promoted up the ladder ahead of her," said the First Lady.
Ms. Obama said his life experience gave the president firsthand knowledge of "what it means when a family struggles."
"Those are the experiences that have made him the man and, yes, the President he is today. And that's who you're working for," she said. "So when it comes time to stand up for American workers and American families, you know what Barack is going to do. When there's a choice about protecting our rights and our freedoms, you know where Barack is going to stand.
The First Lady wrapped up her speech by predicting a close election.
"Barack Obama cannot do this alone. That was never the promise. He needs your help. He needs you to make those calls. Yes, write the checks, but make the calls," she said. "It could all come down to those last few thousand folks we help get to the polls on November the 6th."
She characterized the election as a "journey" that is "going to be long and it is going to be hard" with "plenty of twists and turns along the way."
"As I always say, as Barack has always said, that is how change always happens in this country. We as women know that," said Ms. Obama. "Change happens because of women like us, who stand up and speak out and work day and night, because we know what's at stake. We know what's at stake for our health and for our economic security and for the basic rights that we all hold dear."
Ms. Obama closed by asking the audience, "Are you in?"
"I am so in this," she said. "Can you tell how fired up I am? How ready to go I am?"
The crowd responded with a standing ovation.