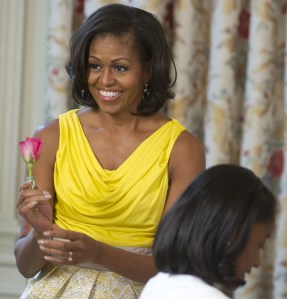 On Wednesday, First Lady Michelle Obama will attend a fundraising reception at the swank Pierre Hotel on 61st Street. According to a campaign official, tickets for the event will start at $250 per person with proceeds benefitting the Obama Victory Fund, a joint fundraising committee of Obama for America, the Democratic National Committee and several state Democratic parties.
The First Lady and President Barack Obama are spending a lot of time in New York City this month. Tonight, President Obama will be appearing with former President Bill Clinton at a fundraiser at the New Amsterdam Theater, which is normally home to Disney's Broadway show, Mary Poppins.
On June 14, the president and the First Lady will attend a fundraiser at the home of Sex And The City star Sarah Jessica Parker. That event will also be attended by Vogue editor in chief Anna Wintour and two Obama supporters chosen from an online contest.