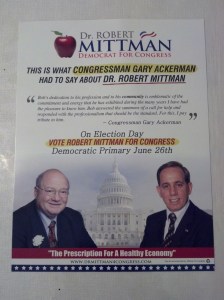 Robert Mittman, an allergist and long-shot candidate for Tuesday's Democratic primary in New York's 6th Congressional District in Queens, doesn't seem to mind using very misleading advertising that implies the retiring incumbent, Congressman Gary Ackerman, has endorsed him when he has actually backed a rival candidate.
"Bob's dedication to his profession and to his community is emblematic of the commitment and energy he has exhibited during the many years I have had the pleasure to know him," the ad declares next to a large image of Mr. Ackerman. "Bob answered the summons of a call for help and responded with the professionalism that should be the standard. For this, I pay tribute to him."
Mr. Ackerman, however, has endorsed Assemblywoman Grace Meng in this election, and the quote seems to be a proclamation to Mr. Mittman's professional career rather than anything related to his campaign.
The ad represents the latest strange development in Mr. Mittman's dive into politics, which recently featured the doctor tacking right on social issues and investing $75,000 into his own campaign. Furthermore, when rumors of his candidacy first emerged, he did not return three phone calls seeking request for comment.
Another candidate in the race, Assemblyman Rory Lancman, initially sought to knock Mr. Mittman off the ballot, likely under the belief that he would siphon Jewish votes away from his base, but eventually dropped the challenge.
On a mostly unrelated side note, Mr. Mittman's campaign vehicle resembles an ambulance, proudly displaying the slogan, "The Prescription For A Healthy Economy." His campaign website can also be found on "slimyourbodyfast.com." Update: His campaign website is no longer on slimyourbodyfast.com, but there is a redirect in place.