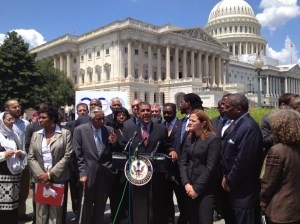 A number of elected officials across New York politics headed down to Washington D.C. today to lobby the federal government to get more engaged in combating the NYPD's stop-and-frisk policies. And in the press advisory announcing the attendees yesterday, one name stood out –Assemblyman William Boyland Jr.
There's one problem with this: Mr. Boyland is currently out on bail and facing his second set of federal corruption charges in the last year.
Sources within the delegation traveling to Washington D.C. told us Mr. Boyland did not ultimately attend as it was not permitted by the courts.  Mr. Boyland is currently barred from traveling outside the borders of New York and New Jersey subject to a $100,000 bond.
However, Mr. Boyland's absence probably didn't strike his colleagues as especially unusual. He has one of the worst attendance records of any legislator in Albany.