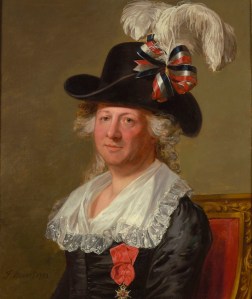 The National Portrait Gallery announced that it will acquire what is believed to be the first portrait of a cross-dressing man, the legendary spy, diplomat and transvestite Chevalier D'Eon, The Guardian reports.
The portrait, which had been lost since 1926, and was rediscovered in a New York salesroom by British art dealer Philip Mould last year, was exhibited in April, at which point it was reportedly already under consideration by the National Portrait Gallery.
When Mr. Mould purchased the painting, which was attributed to Gilbert Stuart, at an antique paintings auction at Thos. Cornell Galleries in New York, last November, it was believed to be the portrait of a hefty lady. The work even bore the title Portrait of a Woman with a Feather in her Hat.
But after further research and restoration, it was revealed that it wasn't a lady at all—but a man dressed like one, and a celebrated one at that. Chevalier D'Éon, the revered "Patron Saint of Transvestites" as he has come to be known, is the source of the term "eonism," which according to dictionary.com is "the adoption of feminine mannerisms, clothing, etc., by a male."
D'Éon, the son of middle class, provincial French parents, was recruited in 1756 by Le Secret du Roi, the top-secret spy network of King Louis XV. D'Éon was sent on a secret mission to Russia to make the acquaintance of Empress Elizabeth and join the pro-French faction against the Habsburgs. In an effort to do this, D'Éon, it was rumored, disguised himself as a woman and became the Empress's maid of honor.
The portrait is also the work not of Gilbert Stuart, but of Thomas Stewart. The article continues as follows:
Charles Geneviève Louis Auguste André Timothée d'Éon de Beaumont, to give her full name, is one of the most important transvestites in history. She was "a fascinating and inspirational figure", said Lucy Peltz, the gallery's curator of 18th-century portraits.

"We are absolutely delighted to be able to acquire this portrait. D'Eon is a particularly fascinating and important figure from 18th-century British history."
For a country that has already awarded the cross-dresser Grayson Perry with one of the greatest artistic validations, the Turner Prize, we say—if a timeline can indeed be placed on such things—it's about time.