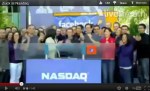 Nearly three weeks later, Nasdaq got around to explaining how it plans to compensate investors who suffered losses due to delays processing Facebook trades on May 18, the day Zuck & Co. rung in their IPO. There's some interesting stuff here:
As previously noted, the exchange intends to distribute $13.7 million directly to investors—the $3 million Nasdaq sets aside each month to make good on technical glitches, plus another $10.7 million in profit earned by holding so-called "orphaned" shares through the delay.
The rest of the payback would come in the form of discounted trading fees vested over the course of six months. According to the Journal:
The company outlined three types of transactions that would qualify, including sell orders priced at or below $42 a share that didn't execute. Sell orders priced at or below $42 that didn't execute and buy orders priced at $42 that were executed but not immediately confirmed would also be considered for what Nasdaq described as "accommodations."
On Twitter, Charlie Gasparino wondered whether the New York Stock Exchange would protest the reduced fees, and the whole deal needs to be approved by the Securities and Exchange Commission.
While Nasdaq's delineation of which trades qualify for recompense offers some help, we're curious about the rest of the losses suffered during the technical malfunction. The four biggest market makers in Facebook stock—Citigroup, UBS, Citadel and Knight Capital—were said to lose as much as $115 million alone during trading delays, and totals losses have estimated between $150 and $200 million.
UPDATE: Nasdaq released its statement on the Facebook flub minutes ago. The only piece we hadn't seen in earlier reports: "Members will qualify for accommodation if: They were directly disadvantaged due to technical problems on the part of NASDAQ prior to the start of continuous trading at 11:30 a.m.; and they had uncertainty regarding their IPO cross position." Nasdaq CEO Robert Greifeld went on CNBC Maria Bartromo to apologize to the industry.