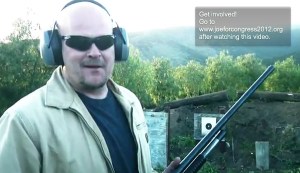 The National Jewish Democratic Council wants an apology from Ohio congressional candidate and 2008 election supporting actor Samuel "Joe The Plumber" Wurzelbacher for his campaign video blaming the Holocaust on gun control. This evening, David A. Harris, president and CEO of the NJDC released a statement demanding Mr. Wurzelbacher apologize and remove the clip.
"Using the memories of the six million Jews killed in the Holocaust to make a political point is never appropriate, under any circumstances. For Ohio Republican House candidate Samuel Wurzelbacher to imply that these innocent lives were taken because of gun control laws is simply beyond the pale," Mr. Harris said.
Mr. Wurzelbacher's video featured footage of the candidate on a shooting range discussing his belief gun control was a contributing factor in the Armenian genocide and the Holocaust.
"In 1911, Turkey established gun control. From 1915 to 1917 one-point-five million Armenians, unable to defend themselves were exterminated," Mr. Wurzelbacher says in the clip. "In 1939, Germany established gun control. From 1939 to 1945, six million Jews and seven million others unable to defend themselves were exterminated."
Mr. Harris described the clip as one of several recent examples of Republicans exploiting the Holocaust including Congressman Allen West suggesting Nazi propagandist Joseph Goebbels would be "very proud" of Democrats for turning public opinion against the GOP, Newt Gingrich comparing liberals to Nazis and Michele Bachmann likening the debt crisis to the Holocaust.
"Wurzelbacher–who is just the latest in a long line of Republicans who seem to think it is acceptable to use the Holocaust for political gain–must apologize and remove this offensive video immediately," said Mr. Harris.
However, Mr. Wurzelbacher seems unlikely to comply with Mr. Harris' demands. This afternoon, his campaign spokesman, Phil Christofanelli, defended the video to The Politicker.
"They always use gun control before abusing the rights of people, so, yeah, that's our position and that's what was said in the video," Mr. Christofanelli said. "And there's nothing offensive about it, it's just historical fact."
 Mr. Wurzelbacher also defended the clip in a series of Tweets this afternoon.
"Hitler wrote in Mein Kampf that his agenda would not be possible unless the people were disarmed. (Facts, Liberal hate them & ignore them)," he wrote.