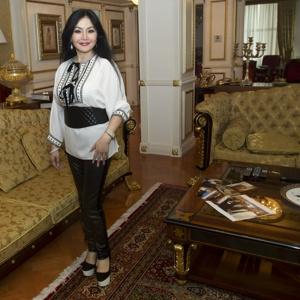 Just when we thought we could count on some titillating, juicy scandals a la The Real Housewives of Kazakhstan, Maira Nazarbayev, the Plaza filcher, has let us down.
According to the Post, Ms. Nazarbayev, the (debatably) ex-wife of Bolat Nazarbayeva, is not, in fact, single. "I consider myself married and in a good relationship with my husband," she told the tab. "And I've never seen a document related to divorce."
Uh-huh. Mr. Nazarbayev sure is a forgiving guy then if he's stayed with Ms. Nazarbayev despite the allegations that she and her son conned him out of their $20 million 4,000 square-foot apartment at the Plaza earlier this year.
Not only forgiving, but forgetful, too. "He was surprised to hear that this took place," Ms. Nazarbayev said, speaking through a translator, about a phone call she had a few weeks ago with Mr. Nazarbayev about the lawsuit. "He was in shock to learn about this lawsuit."
Really?
Mr. Nazarbayev's lawyer, John Snyder, declined to comment, but did point the Post in the direction of a past lawsuit that says the couple were divorced in September of 2009. The article also mentioned sources who claim that Mr. Nazarbayev suspects his spouse of using aliases and of having been already married to somebody when the couple got hitched in July of 2001.
Ms. Nazarbayev, however, denies these and other allegations made in the suit such as one that claims that she is wanted in Kazakhstan "for various crimes, including kidnapping, use of threats of physical harm to extract funds from a business associate, and using criminal threats to force another person to transfer real property to the name of a family associate."
"I had lived and worked as a housewife during my relationship in Kazakhstan with my husband," she told the Post. "There is no factual basis for this information."
All of this is to say she is not giving up her apartment.