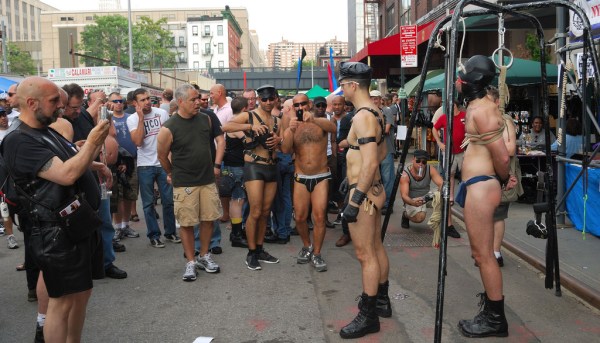 Chelsea is the new Park Slope, only better!
Why, there are so many cool places to take your hip, urban children—the High Line, Chelsea Piers, the Chelsea Market, all the art galleries and, starting this fall, your terrifically-gifted little one can even attend school nearby at Avenues.
Now if only you could just stamp out those last edgy, transgressive elements from the neighborhood. Sure, those things made you feel superior to your Brooklyn-dwelling friends when you first bought that sleek new condo, but now you're all about playgrounds and preschools and you don't want to push your toddler through a crowd of scantily-clad men.
It seems that some residents of the +ART building on West 28th Street want the Folsom East Street Fair moved or eliminated entirely, according to an interview with an anonymous resident in Jeremiah's Vanishing New York.
"Residents from several surrounding buildings have passed fliers asking our residents to write to the Community Board to relocate or totally eliminate Folsom Street East because 'fetish' fairs shouldn't be allowed so close to so many residential buildings," the resident tells Vanishing New York.
There are even rumors of a petition, although the fetish fair, scheduled this weekend, is at least safe for now.
Of course, the annual celebration of the fetish/leather/kink community has been taking place on the block for 16 years, long before +ART or any other residential buildings. But condo dwellers don't want to walk through the sex-positive revelers to get to their building's entrance, and that's that. Even the festival's exuberant motto"New York Fucking City's Sexiest Street Festival" is highly inappropriate reading material for wee ones!
kvelsey@observer.com