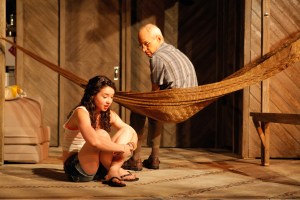 It becomes clear, soon enough, that "Slowgirl" is a schoolyard sobriquet, a cruel teenager's nickname for a developmentally disabled fellow student. And it becomes clear soon thereafter that something terrible has happened to Slowgirl—Marybeth, as she's more properly known, though her erstwhile antagonist rarely calls her that. Through the remainder of Slowgirl, which opened Monday at Lincoln Center Theater's brand-new Claire Tow Theater, we're left to consider what horror befell this poor girl and, more troublingly, what role was played in it by Becky Thurman, the precociously frank but cannily withholding young woman who has arrived at her Uncle Sterling's place, a rustic refuge in Costa Rica, to get away from the swirling trouble at home.
It will all be revealed, slowly and artfully, in this excellent and subtle new play by Greg Pierce. Directed by with unshowy lyricism by Anne Kauffman and placed on a gorgeous, deceptively simple jungle set designed by Rachel Hauck—an array of pastel-painted planks suggest trees surrounding Sterling's simple home; the house ultimately rises off the ground for a scene set on a hilltop labyrinth below—Slowgirl provides a quietly gangbusters debut for this new theater, a sparkling aerie built atop LCT's Vivian Beaumont Theater and designated as a venue for the company's "new artists, new audiences" LCT3 series. (There are also, not to worry, elements of the same old LCT audience, like the blue hair in front of me with an infrared hearing device, repeating the play's first lines to her husband at full voice.)
Becky (Sarah Steele) isn't the only one in Slowgirl with secrets. Her Uncle Sterling (Željko Ivanek) is also a refugee from American troubles—from U.S. troubles, he'd point out, because Costa Rica is also in the Americas. He has lived in the Central American jungle, alone but for a local husband and wife who work for him, for several years, reading and napping and thinking in a lean-to without walls or running water. He last saw his niece and her sister nine years ago. He's a back-to-the-earth hippie type, but also a trained lawyer. And as we figure out what's happened to Becky, we're also figuring out what happened to him, how he lost his practice and his wife and why he hasn't been back to the States in years.
That is the pleasure of this two-hander, which features excellent performances from both actors: watching the young, extroverted Becky and the wizened loner Sterling warily but lovingly circle each other, take each other's measure, and slowly extract each other's backstories, which seem to share some parallels. She's voluble and selfish; he's passive and avoidant. But we're not sure how honestly each is telling his or her own story—Becky's left Marybeth in a coma, if not worse; Sterling's cost 55 needy clients, including five Holocaust survivors, their compensation—and to what degree they carry unadmitted, or barely admitted, responsibility for what happened.
There are strong echoes here of LCT3's previous great success, 4000 Miles, which debuted a year ago in the series' former home at the Duke and then transferred this spring to the off-Broadway Mitzi Newhouse, on the Lincoln Center campus. In that earlier play, a grandmother and grandson grapple with each other, come to terms with each other, and ultimately empower each other. Here, too, the character arcs follow a similar trajectory, though the generation gap is smaller and the focus is less narrowly focused on the younger character. But both underline the importance of supportive, understanding family, especially in hard times, and both accomplish that with smart, sensitive writing.
Indeed, the flaw with Slowgirl is its last moments, and not in substance but in written execution. Throughout the play, the audience has been a step ahead of the characters' self-justifying revelations, considering whether there's more to their stories than they're letting on. When Becky makes her final confession to Sterling, it's surprising that he's surprised—we're expecting that he'd have seen coming what we've seen coming, or at least suspected what we suspected.
And then there's the final bit of dialogue, as Becky and Sterling head out into the dark jungle night—and then back to the United States, to face their problems. "What's out there now?" Becky asks, worried about wild animals. "I don't know," replies Sterling. "Let's see." It's the sort of beat-you-over-the-head metaphor that otherwise doesn't blemish this elegant, writerly gem.
Mr. Pierce is not a young playwright who seems to need much more good fortunate. He's John Kander's new Ebb on the just-workshopped musical The Landing; his uncle is the actor David Hyde Pierce, who has helped him make connections; and, according to a recent New York Times profile, he's handsome and happily partnered in the West Village.
And yet having his play selected to open LCT's handsome new Claire Tow Theater must have felt like winning the lottery.