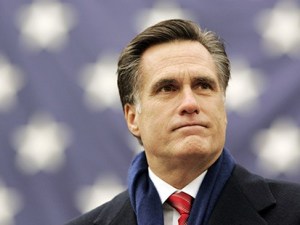 The Obama campaign released a new ad this morning calling Mitt Romney's performance as governor of Massachusetts "one of the worst economic records in the country." In the ad, which is called "We've Heard It All Before," criticism that the state fell to 47th in job creation and fell into debt on Mr. Romney's watch is interspersed with footage of Mr. Romney campaigning by touting his business record.
"Now, when Mitt Romney talks about what he'd do as president … remember, we've heard it all before," a narrator says in the ad. "Romney economics, it didn't work then and it won't work now."
Romney campaign spokeswoman Andrea Saul quickly issued a response calling the ad an attempt to shift the discussion after the weak May jobs report.
"Having abandoned 'Hope and Change,' the Obama campaign only 'Hopes To Change The Subject' from an abysmal jobs report," Ms. Saul said. "We're happy to compare the 4.7 percent unemployment rate Mitt Romney achieved in Massachusetts to President Obama's weak record any day."
Ms. Saul also highlighted statistics showing the unemployment rate in Massachusetts fell from 5.6 percent to 4.7 percent while the state gained jobs and closed a budget shortfall during Mr. Romney's tenure.
"President Obama's policies have failed to get Americans back to work," said Ms. Saul. "It's time for a president who has worked in the real world economy and understands how to get this economy moving again."
Watch President Barack Obama's new campaign ad below. The ad will air in Colorado, Florida, Iowa, North Carolina, New Hampshire, Nevada, Ohio, Pennsylvania and Virginia.
[youtube http://www.youtube.com/watch?v=oWdZEJW1vWY]