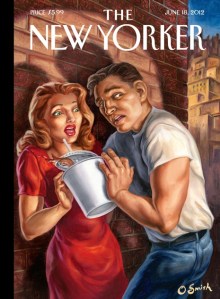 This week's New Yorker cover pokes fun at Mayor Bloomberg's proposed ban on super-sized sodas and other sugary drinks—and the surrounding media frenzy—with a pulpy cover showing two lovers caught in the act of Big Gulp-ing.
"When I heard about Bloomberg's plan, on the national news, to make large sodas illegal, my mind immediately went to 'Are people going to jail for this?'" the artist, Owen Smith, told the magazine's Cover Stories blog.

The New Yorker has never been one to shy away from Hizzoner's more colorful aspects. Last year, the Mayor's ban on smoking in parks prompted this Bruce McCall cover, which shows New Yorkers in the stocks for indulging in salt or a smoke. And who could forget last year's Valentines Day cover? That one, drawn by Barry Blitt, had the Mayor mooning at himself in the mirror over chocolates and Champagne. (His birthday is February 14.)
Not that he needs take it personally. Mayor Bloomberg's predecessor Rudy Giuliani also made the cover three times, according to the New York Times.