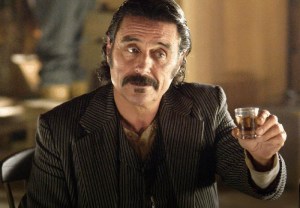 At least from an etymological standpoint, The New Yorker may seem to be an unimpeachable institution of writerly decorum, especially as far as their dedication to impeccably edited copy goes.
Don't let that fool you: Those guys love bad words as much as anybody else.
In a very, very amusing (and very Summer Friday) post on their Page Turner blog, New Yorker copy editor Mary Norris takes us behind the scenes of having to edit through Tweets of the young, prodigal rapper Earl Sweatshirt for Kelefa Sanneh's profile of him. She described the experience as "debilitating" and "extreme," explaining that copy editors who have to go through this kind of thing deserve to get sent for a detox treatment. Of course, this comes on the heels of a different piece in which a four-letter word that begins with "F" is used 14 times in one paragraph. It's about sailors, of course.
And yet, she makes it clear that anything resembling a cursing epidemic at The New Yorker comes from the top:
I did not know at the time that there was an informal contest going on at the magazine to see which writer could get the most instances of "fuck" into print, and that Sanneh was going head to head with [New Yorker editor] David Remnick for the title.
The result of this, of course, is that this once principled woman of decorum now considers herself forever tarnished:
I used to be a prude, but now I am a ruined woman. We had a discussion in the copy department a few weeks ago about how to style the euphemism: Shall it be "f"-word, f word, f-word, "F" word, F word, or F-word? I don't like any of them. Fuck euphemisms. Get on the goddam fucking bus.
Even though we'd offer a correction of "goddamn" over "goddam"—lest anyone think you were referring to some kind of beaver-constructed Stonehenge—we quote here in solidarity David Milch's great barkeep for the ages, Al Swearengen: Heng Gai, fuckin' Wu.
Meanwhile, the New York Times still refuses to even put the word "Tweet" in their style guide, let alone allow writers to quote their motherfucking subjects in the shitty, unfiltered, god-fucking-awful way they usually tend to speak. The Wall Street Journal won't even let their owner drop F-Bombs in its pages. To both, we say: Get with the times—wordplay unintended—you notoriously prudish fuckin' luddite cocksucker assholes. Fuck you.
Dropping the F-Bomb [New Yorker]
Note: This post originally characterized the blog post in question as very "Summer Friday" when it was in fact posted yesterday. We have corrected it, and we regret the dumbshit motherfucking error.
fkamer@observer.com | @weareyourfek