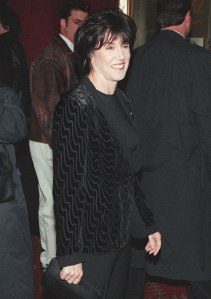 Screenwriter, director, and essayist Nora Ephron died last night; she was 71. Wonderful tributes and memories of Ephron's legacy keep pouring out (just one example: it turns out the You've Got Mail website is very much intact, and itself a wonderful, odd little remnant of one of her more profound tributes to the Upper West Side).
If you haven't read the New York Times' exceptional obituary of Ms. Ephron do so. Meanwhile, we have been relishing our own small piece of Ephron's legacy: The You've Got Mail character Frank Navasky, played by Greg Kinnear.
Frank Navasky was the boyfriend of Meg Ryan's character in the film. He was also a reporter for the New York Observer.
As IMDB puts it:
Frank Navasky is a columnist for the New York Observer. His columns often feature protests against the effects of technology on society. As a result, prior to the arrest of Theodore Kaczynski, he was sometimes jokingly mentioned as possibly being the Unabomber. He is particularly skeptical about the advantages of computers, and is famous for his pæans to the electric typewriter. He was also a prominent participant in a movement, ultimately unsuccessful, to save The Shop Around the Corner, a children's bookstore.
Frank Navasky comes off, at times, as arrogant, slightly obsessive-compulsive, a narcissist, and an indignant anti-capitalist.
For example, this is the scene in which he meets Tom Hanks' character Joe Fox, for the first time:
In the original script, Frank worked for a paper called "The Independent," but it was clearly modeled after The Observer, which is what they ended up using in the film. A lot of good it did him. Spoiler alert: They eventually split, and Ryan ends up with Tom Hanks.
Ephron was a well-chronicled character in the Observer, especially from the late 80s onward. One of the earliest mentions of her in the paper came in a July 25, 1988 story by Michael M. Thomas ("The Midas Watch: The Punishing Hamptons Social Scene of '88"). She was also a regular fixture in The Transom, the front-of-book column of boldfaced names. 
I'd heard from a Observer editor a few years ago that the character of Frank was based on Frank DiGiacomo, the former Vanity Fair writer (and soon-to-be-former Gatecrasher editor) who oversaw The Transom for a number of years while at The Observer. After all, the character was named Frank, and is a slightly cantankerous wiseass (which is an apt description of many an Observer reporter and editor over the years).
As it turns out, though, that tip was probably a decade-old bit of pranksterism passed down to me. The character was actually a sweet tribute to Observer writer Ron Rosenbaum, the man who reportedly inspired Steve Jobs to start a little company called Apple Computers.
Mr. Rosenbaum, who currently writes The Spectator at Slate, shared Ephron's views on many a topic: An avowed love of Charles Portis as well as the erstwhile Upper East Side watering hole, Elaine's (the setting for Rosenbaum's novel Murder at Elaine's, which Ephron once attempted to adapt into a musical with Roy Blount Jr.). Mr. Rosenbaum and Ephron also worked together on [MORE] Magazine and a satirical conference named for A.J. Liebling that Time once called "Journalism's Woodstock."
So what did Rosenbaum think of the character? Ironically—at least as it regards Rosenbaum—the answer was, while a little buried, already out there on the Internet, not too long after the movie had been released.
In a 1999 column for Slate about adapting to new technology, he wrote:
So, I may not be a Luddite, but I play one on TV, or I'm played as one if you rent and watch You've Got Mail. If you can get past the chirpy sentimentalizing of terminally insipid e-mails by tragically insipid stars Meg Ryan and Tom Hanks, you'll find in the film a relatively benign caricature of a New York Observer writer with arcane literary and philosophical preoccupations who crusades to save an independent bookstore from being crushed by a big chain store, who rejects computer culture and rhapsodizes over his typewriter–an Olympia Report Deluxe electric. Now, it just so happens that I am a New York Observer columnist (click here to download me) with arcane literary interests (see the interview with me posted in Feed last month, if you care) who launched a crusade to save an independent bookstore (called Books & Co.) and who wrote a column rhapsodizing over his typewriter–an Olympia Report Deluxe electric–while working on a doomed film project with future You've Got Mail director Nora Ephron.
The column confirms on a intimate level what Ephron was able to capture so well and so often in her work: Two people, with shared interests and creative outlets, one acting as a muse for the other. The Observer's appearance in the film is an obscure footnote to Ephron's work and life, but one that makes working for this paper a bit sweeter.
The film's larger contribution is the way it made New York feel like a small town. It took an amazing talent and a special kind of insight to do that, and the place hasn't been the same since.
For that, and in so many other ways, large and small, she'll be missed.
fkamer@observer.com | @weareyourfek