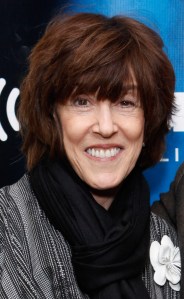 By now it's clear that many people felt a sense of personal loss when Nora Ephron died from complications from leukemia at the age of 71 last night. A family of artists lost its beloved matriarch, Hollywood lost a glass ceiling-breaker and the baby boomers lost their witty escort into old age. As a young journalist, I lost living proof that one could be a reporter and still a good person.
It didn't take long into my (still extremely brief) reporting career for Janet Malcolm, a fixture of undergrad reading lists, to creep back into my mind with her famous claim that "every journalist who is not too stupid or too full of himself to notice what is going on knows what he does is morally indefensible."
But when she did, I could always think of Nora Ephron. (Or so I learned, after reading Ariel Levy's profile.) In articles for Esquire and New York, she was unafraid to articulate an unpopular opinion or cut someone down, but she remained one of the most well-liked people in the field. In part, by others' accounts, including Capital New York's, because she paid it forward by making her formidable mind available to other, younger reporters.
But perhaps it was also because she was brave enough to admit that it took an emotional toll. Her scathing profile of former New York Post publisher Dorothy Schiff began "I feel bad about what I'm going to do here."
I was unsurprised to read in The Awl this morning that Ephron was hesitant to begin writing in the first person. But I'm glad she did. By writing about food, relationships and the body with her natural self-effacing charm and her reportorial judiciousness, she proved that topics and modes once relegated to women's magazines were actually just the stuff of human experience.
It's no surprise she wrote the only chick flicks I could ever get my boyfriends to watch.
In other media news…
Suspended Politico reporter Joe Williams defended himself on Current TV today. Erik Wemple raises an interesting point: Do a journalist's personal tweets and TV appearances weigh as heavily in one's oeuvre as their years of fair and balanced reporting? [Washington Post]
Ann Curry's ouster at Today might also cost NBC Natalie Morales. [Page Six]
Msnbc.com's Bill Dedman discovered another reporter claiming to have been nominated for a Pulitzer: Charles Gasparino. Remember, bio-fluffers: there are only finalists and winners. [msnbc.com]
ABC News Digital EP Ed O'Keefe is headed to Lerer Ventures' "Planet Daily," a super secret video news project you might call this year's The Daily. [Capital NY]
The Romney campaign met with Marcus Brauchli seeking a retraction of a Washington Post story that says Governor Romney's former employer Bain Capital invested in firms that specialized in outsourcing American jobs. They will not. [Politico]
When News Corp. splits in two, will its news properties still be able to plug its entertainment properties? [Adweek]
And the backstory on how Liz Smith preemptively broke the news of Nora Ephron's death: Responding to an e-mail regarding funeral plans from her son, Jacob Bernstein, she assumed she had already died. [WWD]