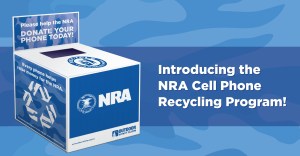 The National Rifle Association is teaming up with The Wireless Alliance, a cell phone recycling company, to create the NRA Cell Phone Recycling Program. According to the press release, this initiative is to a) Help raise money for NRA programs and b) Protect the environment. Like a horse and carriage, these two causes!

Here is the full-sized image sent to our Inbox today: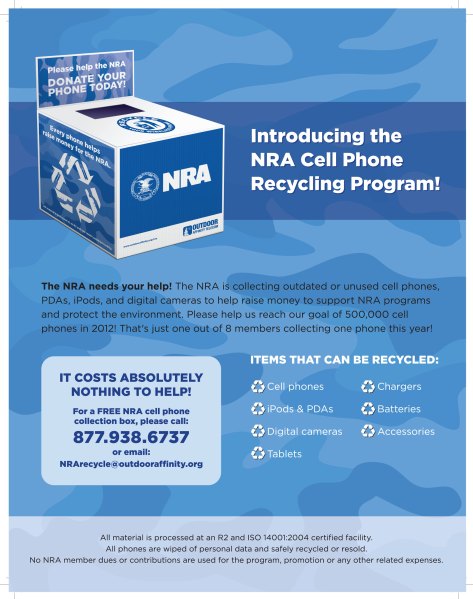 But why the NRA? With their 41 million subscribers, this single-issue group has one of the highest email subscriber/opening email ratio. (They are like the Midwest MoveOn.Org, if MoveOn.org was actually powerful.)
The Observer called the number listed  to see what this program was about, because honestly, what could the NRA–which again, is single-issue group– and environmentalism have to do with each other?  We were connected to  Andy Bates, the vice president of The Wireless Alliance. According their website, The Wireless Alliance is a cell phone recycling company that works with "wireless retail stores, e-waste recyclers, schools, universities, state and local government, large corporations and non-profit organizations to collect and recycle cellular equipment."
Mr. Bates told us that WA announced a partnership with the NRA during the gun convention in St. Louis this April. This morning was the first email "blast" that went out to clubs and organizations, and so far 31 associations–mostly gun stores, shooting ranges, and manufactures–have responded, asking for the recycling boxes.
When we noted the weirdness of this team-up, Mr. Bates told us that the Wireless Association was owned by BPI Telecom, an Irish telecommunications service that heads up Outdoor Affinity Telecom. OAT is a wireless service that "provides savings on telecommunication services to supporters of the outdoor industry," according to its website.
Also:  "Outdoor Affinity Telecom is proud to make a donation back to outdoor industry organizations on behalf of members who take advantage of these savings."
The partners listed of OAT include the NRA, along with several other shooting organizations, all of which are owned by the NRA or Outdoors Affinity. In addition, Mr. Bates noted that BPI is a major corporate sponsor of the National Rifle Association.
Sure, it's sort of a "snake eating its own tail and then blowing off said tail with a gun" kind of scenario, but if the Wireless Alliance has found a way to actually connect with individuals of this very large organization and have them help the Earth, then…why not? Right?