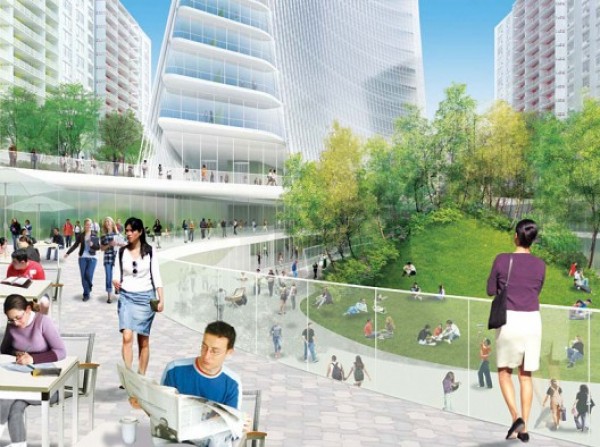 Now the NYU plan is perfect, at least in the eyes of planning potentate Amanda Burden and the rest of the rest of the City Planning Commission. About an hour ago, the commission conditionally  and near unanimously approved NYU's contentious expansion plans for its two superblocks just south of Washington Square Park.
The commission is requiring the university to modify its 2 million square foot expansion in a number of meaningful ways, though the outlines of the new mini campus remain largely intact. There was one dissenting vote for the modified plan, from Commissioner Michelle de La Uz, who is the appointee of Public Advocate Bill de Blasio.
The biggest thing to go is a hotel in the so-called zipper building, which will replace the Coles athletic center at the corner of Mercer and Houston streets. Locals, including a few hotels, were worried about pick-ups, drop-offs and general transience coming to the corner.
The university had argued it needed the space to host guest faculty and conference visitors, but it was willing to give up the rooms, though not the space–the zipper building will still rise to 26 stories, an issue that still rankles many expansion opponents. Some observers believed the hotel was simply included as the sort of component that could easily be eliminated without harming the overall plan while still providing the appearance of compromise.
"They still get the building they want," Greenwich Village for Historic Preservation executive director Andrew Berman told The Observer after the vote.
The two boomerang-shaped towers within Washington Square Village will be reduced in height, so that they do not rise higher than their 1950s neighbors, but the bulk of the building has not been reduced, meaning shorter, fatter buildings. This could further wall off the interior open space, which has been a major concern for the community, who see the university as privatizing this open space. There will, however, be an oversight committee created to try and ensure open access to this open space.
The final change was the elimination of a commercial overlay that stretched for nine blocks around the site, up to the buildings just east of Washington Square Park. A little known feature of the rezoning application, it would have allowed some of the older buildings to have new ground-floor retail built within. Two residential buildings within the area, that have since been bought by NYU, vehemently opposed this part of the plan, and it was eliminated to accommodate their concerns.
But at the end of the day, there are still four very big buildings coming to the Village in the future.