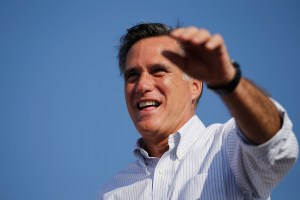 Yesterday, Mitt Romney wrapped up his six state bus tour in Michigan, the state where he was raised and his father was governor from 1963 until 1969. In an appearance in Michigan yesterday, Mr. Romney made a bold prediction to the audience.
"I'm going to win Michigan with your help!" he said.
The Obama campaign is also predicting the outcome in Michigan, but they say Mr. Romney has not shot. In a statement released last night, Obama For America spokeswoman Lis Smith shot down Mr. Romney's promise of a victory in the Wolverine State.
"Today, Mitt Romney said he would win the state of Michigan in November. But he won't – and it's not just because he would have 'let Detroit go bankrupt,'" Ms. Smith said. "While President Obama has laid out a balanced plan to reduce the deficit, put Americans back to work, and restore economic security for the middle class, independent economists have said Mitt Romney's plan would do nothing to create jobs now or reduce the deficit, and could make the economy worse."
Though Mr. Romney won Michigan's Republican primary, the Obama campaign has reasons to be optimistic about their chances there. President Barack Obama is ahead in nearly every poll in that state and is leading Mr. Romney by an average of six points. However, despite the encouraging poll numbers for the president, Michigan is one of twelve crucial swing states that are seen as potentially going to either side.