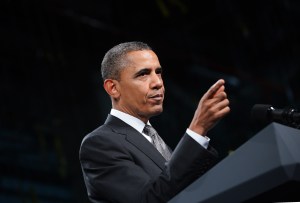 At a fundraiser in Maryland today, President Barack Obama criticized the core message of Mitt Romney's campaign as simplistic.
"Because folks are still hurting right now, the other side feels that its enough for them to just sit back and say, 'Things aren't as good as they should be and it's Obama's fault,'" the president said. "You can pretty much put their campaign on, on a tweet and have some characters to spare."
The bulk of the attacks made by Mr. Romney's campaign since he secured the Republican nomination have characterized the sluggish economic recovery as the result of failed policies instituted by President Obama. At today's fundraiser, the president said he remains confident the nation's voters are on his side.
"The good news is, the American people generally agree with our vision," said President Obama. "If you just put in front of them, issue after issue and you present the Democratic approach and the Republican approach, we win."
He also claimed other countries would be glad to be in America's economic situation.
"There's not a country that wouldn't trade places with us," President Obama said.