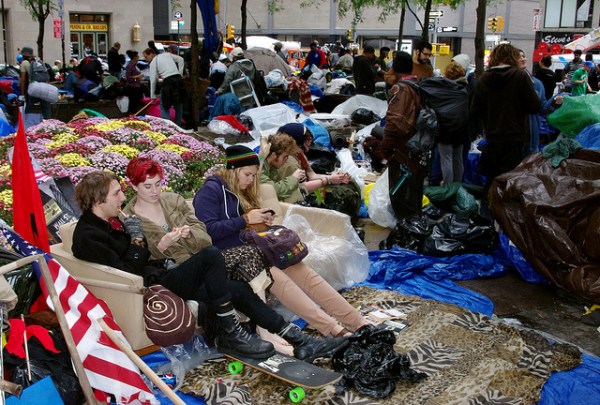 All along, the Occupy Wall Street movement in New York has been comprised mostly of white kids. Not to say the movement is or was all white kids, but despite the existence of a committee for people of color, there are and were a lot of white kids occupying Wall Street. But Occupy Wall Street won't tolerate divisions based on race, class or gender at Occupy Wall Street. There will be a meeting.
"Race, Class, Gender, Privilege and Power at Occupy Wall Street (A Real Discussion and Plan to root it out and EVOLVE from it!)!)" is one of the events listed in today's edition of the email newsletter sent out sporadically by the Occupy Wall Street group New York City General Assembly. "Almost no one will deny that racism in our society exists, but what's not so clear is the depth of its presence within the Occupy Wall Street Movement," reads the description.
The meeting is scheduled for Friday at "Liberty Plaza," the site of the original Occupy Wall Street protest. Sixteen people have RSVP'ed on Facebook; 14 said maybe. "Everything from the lack of diversity in this movement to the framing of questions, structures and culture has often been called into questions from the De-colonization Movement to even other Occupies within New York City," the organizers wrote. The Decolonization Movement is a push to include "decolonization" in the list of Occupy Wall Street's demands.
The Friday meeting is being called to discuss these intra-movement issues and figure out "steps to systematically address."