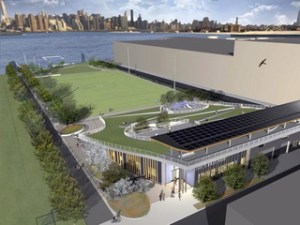 Five-hundred years ago, Council Member Stephen Levin would have rode in on a horse, tooted his trumpet, and read from a really really long scroll. But instead, he held a hearing.
"The community wants to know why it has taken this long to move these open space projects forward," he said in a press release decrying the city's slow action on a slew of promised parks in his district.
One of the open space project is particularly irksome, a 2005 plan by the city to turn a 30-acre site along the waterfront in Williamsburg into an as-yet undeveloped park. "The community deserves to see a plan to build the parks that we were promised," Mr. Levin added.
Others in the Williamsburg/Greenpoint area agree with Mr. Levin. The Friends of Bushwick Inlet Park (the official name for the site) and other supporters rallied on the steps of City Hall yesterday prior to the hearing to voice their desire for the park.
"Every community deserves access to open space and North Brooklyn is no exception," Senator Daniel Squadron said. "When these promises aren't kept, it makes it a lot harder for communities to move forward with similar rezoning projects in the future."
But you have to give the city some credit: the 30-acre site isn't wholly undeveloped. They did built a soccer field.