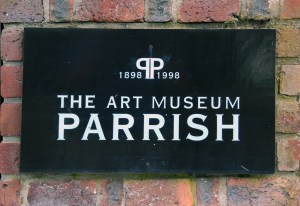 With the Parrish Art Museum on track to open in its new Herzog & de Meuron–designed home in Water Mill, N.Y., in November, its administrators are taking care of some housekeeping work in its longtime home of Southampton, N.Y. The Southampton Press reports that, at the end of April, the museum sold off a building for $2.875 million that had been used for education programs.
Here's The Press:
In 2000, the Parrish Art Museum bought the century-old building from the Rogers Memorial Library, which had relocated to its current building on Windmill Lane, for $1.1 million. Museum board member Carroll Petrie donated $3 million to offset the cost of the purchase and to renovate the structure.

"We bought the building when we were planning on staying here in the village and expanding," said Parrish Art Museum Director Terrie Sultan. "The idea was that we would renovate the 25 Jobs Lane [building], and expand on site, and create a mini-campus where various parts would be presented in high-quality facilities."
The new owner is a company called Ajax Holding LLC, which apparently plans to restore the historic building and may convert it into retail space.
The main Parrish building is set to undergo renovations in the next two years, eventually serving as space for a proposed Southampton Center, which will host cultural events of various kinds. Last week, architect David Rockwell was tapped to design a pavilion for the center on the Parrish's Southampton grounds.
Update, 2 p.m.: The Press now reports that Jonathan S. Sobel, a former Goldman Sachs exec, owns Ajax and will lease "the building back to the museum for $1 so it can continue using it until the move to the new building in Water Mill is completed."