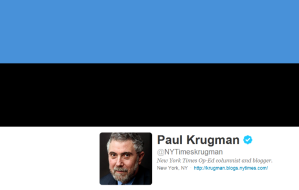 Earlier today we reported on the President of Estonia, Toomas Hendrik Ilves, lashing out at New York Times columnist Paul Krugman over what he felt was an unfair treatment of his country. Their dispute isn't over yet, however.
The original complaint came from a blog post where Mr. Krugman labeled Estonia's recent economic performance as "a terrible — Depression-level — slump, followed by a significant but still incomplete recovery."
In turn, Mr. Ilves attacked Mr. Krugman over Twitter for being "smug & snide gloating" and "smug, overbearing & patronizing," as well as suggesting his approach is, "Let's sh*t on East Europeans: their English is bad."
Well, it turns out Mr. Krugman isn't going to look into Mr. Ilves' specific concerns. In another post today he continued his argument while stating he didn't "track down" his Baltic rival's rather public criticism of his original point.
"I'm hearing from various sources that my rather mild-mannered post on Estonia has generated a vitriolic response from the nation's president," Mr. Krugman reasoned. "I'm not going to try to track the thing down."
"Let me instead ask the following," he continued. "Since some people insist that Estonia's partial — but only partial — recovery from a severe economic crisis demonstrates the wonders of austerity, would they also agree that the evidence below demonstrates the incredible success of FDR's New Deal policies of promoting unions, raising wages, and increasing government employment?"