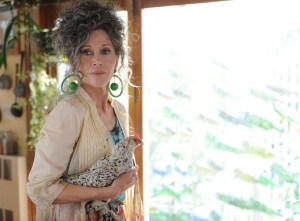 Jane Fonda is always a welcome antidote to the hackneyed drivel of today's movies, even when she's relegated to screen sharing with also-rans like Jennifer Lopez and Lindsay Lohan. In her career zenith, she could always be counted on to bring both complexity and nuance to the least deserving roles. At 74, she hasn't forgotten a thing. With a wonderful, careful and admiring director, she gives even a routine picture unbridled energy, craft and an extra dash of class above and beyond the script. All reasons to embrace Bruce Beresford's warm, polished, feel-good comedy Peace, Love, & Misunderstanding. 
Jane plays Grace, a beautiful remnant of Woodstock, an aging hippie in upstate New York who long ago surrendered the ties that bind free spirits to conventional social acceptance. She tends her kiln, barters for supplies with her art, grows chickens while holding war protests every Saturday. She's a vigilant flower child who has given up nothing including her marijuana plants. She grows it in a specialty plant-lighted room perfect for weed. This is not autobiographical material. When the hippies were blowing in the wind, Jane was living in Paris, married to Roger Vadim. But she is a perfect Grace. Like I said before, she has forgotten nothing—including the ability to bring even a homespun character with obelisk jade earrings and macramé Feng Shui.
Culture shock looms when Grace's successful, anal retentive Manhattan lawyer daughter Diane (Catherine Keener), in the middle of a nasty divorce, arrives in Woodstock to visit the estranged mother she hasn't spoken to for 20 years, bringing along her two children, Jake (Nat Wolff) and Zoe (Elizabeth Olsen), who have never met their grandmother. The reunion packs an instant wallop. Diane is appalled to find her mother sleeps around at will and plays town matriarch to what's left over from the Flower Power movement, as well as local fertility goddess and revered dope dealer. She welcomes frequent visits from naked men in the middle of the night and dances once a month around a bonfire, playing weird instruments and howling at the moon. Instead of Diane's feared negative effect of her mother's liberal personality on her kids, they adjust quickly and embrace their eccentric grandmother's force of nature with relish. Diane resists her mother's primitive lures, but the kids discover a liberating energy they didn't know they had. In no time, vegetarian Zoe falls for a handsome butcher (Chace Crawford). Jake becomes attached to a young waitress and turns into a filmmaker. Even Diane meets a handsome, hopelessly corny, guitar-playing carpenter (Jeffrey Dean Morgan) who sings, writes songs and rekindles her lost interest in romance. While Grace reminisces about Jimi Hendrix, Janis Joplin and threesomes with Leonard Cohen, her grandkids become enchanted with a way of life before their time. In time, they want to be just like her. Everyone learns something, in follow-the-dots movie predictability, but you like the characters so much you want them to smile and find peace in new beginnings and fresh family bonds. They bring their own hang-ups and learn to change gracefully. They all read too much Walt Whitman, and I would have liked it more if it wasn't manipulated by so many of those old songs from the 1960s that seem so naïve and simplistic now. Still, it's pleasant watching this uniquely cool grandmother share her pot with her uptight grandkids and encourage them to lose their virginity, presenting them with the raw material they need to look into their own souls.
Pop songs, beautiful bucolic scenery and the joy of watching Jane Fonda fizz in a fun role that looks like a no-brainer are elements that a skilled director like Australia's polished Bruce Beresford (Driving Miss Daisy) blends with perfection. Best of all, there is Jane Fonda, whose total investment of heart and soul lights up every corner of the screen. She is so much a part of Grace that you can only wonder if placing Ronald Reagan's autobiography next to The Cannabis Grower's Bible wasn't her own idea. "Maybe he'll learn something," says Grace. Or is it Jane Fonda talking? No matter how you slice it, she still has a lot to give, and in  Peace, Love, & Misunderstanding, she gives it all she's got.
rreed@observer.com
PEACE, LOVE, & MISUNDERSTANDING
Running Time 96 minutes
Written by Joseph Muszynski and Christina Mengert
Directed by Bruce Beresford
Starring Jane Fonda, Catherine Keener and Elizabeth Olsen
3/4