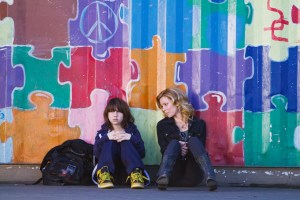 People Like Us is a conveyor belt romcom about a tough tomato with a kid to raise, calloused by life's shin kicks and cynical with despair, who falls in love at last with the perfect guy she's waited for her entire life, unaware that he's really her brother. It sounds awful, but the big surprise is that in spite of its too-obvious directorial flaws, it has an emotional impact (for me, anyway) I can't resist, reinforced by the guileless chemistry of a perfect cast and the genuine humanity in the script. In a summer overloaded with numbing junk movies masquerading as gum-chewing blockbusters, this is a rare feel-good treat that nudges the heartstrings and makes you feel optimistic about the human race.
Writer-director Alex Kurtzman, whose unoriginal, face-slapping big-budget action programmers (Star Trek, Cowboys and Aliens and the Transformers copycats) leave me colder than refrigerated leftover pizza, makes his first attempt at serious filmmaking with this uneven but basically endearing look at unhappy people who learn through hard knocks and rough mistakes to look at life with new priorities and fresh perspectives. Chris Pine, impossibly handsome, secretly talented, but totally wasted for most of his career in meaningless cookie-cutter action epics, makes a giant leap forward as an actor of both range and subtlety in a new kind of role. He is Sam Harper, a slick New York salesman who is having a bad day. His latest hustle has landed him in job jeopardy, and before he can talk his way out of legal troubles that could lead to a criminal investigation by the Federal Trade Commission, his estranged father, a famous Hollywood record producer, dies in L.A. Urged to attend the funeral by his pragmatic law-school fiancée Hannah (Olivia Wilde), Sam heads for JFK but misses the last plane because he left home without a photo ID, arriving in L.A. so late that he misses the ceremony, too, incurring the wrath of his infuriated mother, Lillian (Michelle Pfeiffer). (Hard to believe, but yes, the still-beautiful superstar has now joined the ranks of aging stars relegated to playing aging parents. This one is a step up from the embarrassing mother of a werewolf she recently played in Dark Shadows.)
All Sam's father left him in his will is his old LP record collection and a shaving kit containing $150,000 designated to be delivered to a mysterious woman named Frankie (played by Elizabeth Banks with an engaging been-around-and-seen-it-all honesty that grows on you), a single mother with a precocious 11-year-old son named Josh. Following Frankie to an A.A. meeting, Sam discovers she's a recovering alcoholic and addict, once a hat-check girl at the Troubadour and a Joni Mitchell wannabe, who has spent a lot of troubled years in rehab, with no help from her illegitimate father, and now ekes out a living as a barmaid. Sam also uncovers the astonishing fact that she's a half-sibling he never knew about. He knows he should do the right thing and turn over the money, but curiosity to find out more leads both mother and son into emotional areas that spiral out of control. Not knowing who Sam really is, Frankie falls for him. Between endless jump cuts, too much fast television-style editing and a bumpy pace that threatens to kill the film's underlying sensitivity, Mr. Kurtzman also fails to resist the unwise clutter of a dated falling-in-love montage (cracking crab legs in a seafood restaurant at the beach, doing laundry at a Hollywood washateria, posing with a motorcycle gang for laughs, eating tacos, learning to trust). Layer by layer, secrets are revealed, mysteries get solved and hearts are broken in a movie about parents and children, brothers and sisters, immaturity and responsibility, letting go and starting over.
Based on true events in the lives of director Kurtzman, involving meeting an adult half-sister he never knew, and of co-writer Roberto Orci, a college friend whose aunt found out her own father had a secret family he didn't tell her about, People Like Us is informed by real feelings uncorked like a lost bottle of Cabernet Sauvignon hidden away in a dark corner of a private wine cellar. Mr. Kurtzman is a better writer than director. One minute his movie shows a perceptive compassion for the way people talk and feel, and the next minute it churns its way into conventional TV motion sickness like it is filling spaces between Cheerios commercials.
Still, the actors make up for any and all deficiencies. The natural chemistry between Mr. Pine and Ms. Banks more than smooths out the contrived screenplay away from the artificial—Sam's refusal to tell Frankie the truth, hand over her inheritance and seal her chances for a better life for her own tortured kid grows annoying—and into the direction of plausibility. Michelle Pfeiffer reveals her own mixed emotions about the secrets she's been concealing for years, too young to forgive and too old to forget what it feels like to live with pain and betrayal. They work tirelessly, elevating banal characters—concocted for no other purpose than stretching a perfunctory outline to meet the demands of a full-length movie—into real relationships between likeable people who redefine the limits of friends and family.
rreed@observer.com
PEOPLE LIKE US
Running Time 115 minutes
Written by Alex Kurtzman, Roberto Orci and Jody Lambert
Directed by Alex Kurtzman
Starring Chris Pine, Elizabeth Banks and Michelle Pfeiffer
3/4