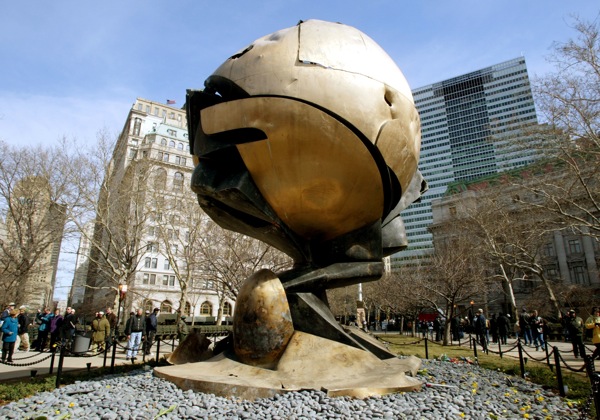 When it comes to anything World Trade Center progress moves at a notoriously glacial pace. But the decision of what to do with Fritz Koenig's Sphere—damaged and dented, but still intact after the WTC attacks— has been excruciatingly slow, even by World Trade Center standards.
Still, as of Thursday, a small bit of progress was made when Pat Foye, executive director of Port Authority of New York and New Jersey, said he believes the sphere should be made part of the World Trade Center memorial, The Wall Street Journal reported.
The statement came as a relief to Sphere supporter Michael Burke, who lost a brother in the attacks and has been a staunch advocate of the sculpture's relocation to the 9/11 memorial site ever since.
"They say the sphere is reminding us directly of the attacks," Mr. Burke told The Journal. "That kind of ignores the sphere's existence. It's absurd. Barring it from the site is a betrayal."
"The point that Mr. Burke made resonates with many people in New York and New Jersey and many people here at the Port Authority, especially given the fact that 84 members of the Port Authority family were killed on 9/11," Mr. Foye said. "This is an artifact that survived and was affected by the horrors of 9/11, and placing it on the memorial plaza, we think, is entirely appropriate."
And while it's good to see some headway being made after back-and-forth debates (which were supposed to be settled back in May), especially give the impending homelessness of the statue, which has been camped out in Battery Park for the past decade but needs to be moved for park renovations, Mr. Foye's vague statement of support doesn't give many details about where exactly the 25-foot-tall, 45,000-pound sculpture will go.
Mr. Foye said that he hopes "the ultimate result will be one that is an appropriate site for the sphere and one that's respectful of the views Mr. Burke spoke of at our meeting today."
sgrothjan@observer.com