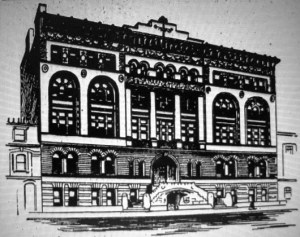 Though the Responsible Landmarks Coalition has yet to take any public action beyond launching its web presence, preservationists are lining up to fight back. The Historic Districts Council just announced a town hall meeting "to defend the Landmark Law" next week. It will be held next Tuesday evening at the General Society of Mechanics and Tradesmen—a landmark on West 44th Street designated in 1988, no less.
This follows on a strongly worded fusillade last week from HDC director Simeon Bankoff, the preservationists' own cri de coeur.
As widely reported, the Real Estate Board of New York recently joined forces with a handful of construction and development industry groups to create a new coalition that is calling for a halt to landmark designation and an evisceration of the Landmarks Preservation Commission's abilities to protect and regulate New York City's historic architecture. The group claims that landmark designation lowers values, raises costs, stifles development and diminishes affordability. To hear them tell it, landmark designation will transform New York into an lifeless museum city with a "look but don't touch" mentality. HDC feels that nothing could be further from the truth and that their proposed reforms, if adopted, will be very damaging to the long-term health of our city.

Preservation practices empower communities, celebrate our history, drive economic growth and sustain development efforts. Preservation enhances our streetscapes, nurtures tourism, encourages investment and employs local labor. It is a popular, populist movement driven by regular New Yorkers who value their homes and their city. The Historic Districts Council works with community groups throughout the five boroughs on efforts to save, preserve and enhance the special character of New York's historic neighborhoods. We work with communities from areas as different as the Upper West Side and Bedford-Stuyvesant on the shared goal of empowering the community to have a voice in determining their own future. These two communities are ones whose efforts we honored this week at the Grassroots Preservation Awards and whose successes have been targeted as "over-reaching" by the new real-estate coalition.

It is a great credit to the Mayor and to many community representatives that they recognize New Yorkers' desire to preserve the special qualities of their homes and neighborhoods. These elected leaders work with their constituents to do exactly that, realizing that a neighborhood where the residents have a say in determining its future is like a well-tended garden, it nurtures and sustains life. The reforms this new coalition proposes would raze our old-growth neighborhoods in search of short-sighted profit.
And so the first shots have been fired.