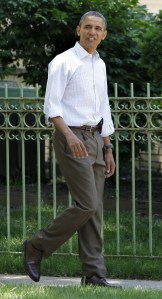 Last night, President Barack Obama spoke at a Broadway-themed fundraiser hosted by theater producer Margo Lion. He began his speech by sharing a story of how Ms. Lion once tried to help him do something he's been unable to since taking office–taking an incognito stroll around Central Park.
"The thing that you miss most when you're President–extraordinary privilege, and really nice plane and all kinds of stuff, but suddenly, not only have you lost your anonymity, but your capacity to just wander around and go into a bookstore, or go to a coffee shop, or walk through Central Park," President Obama said. "It was a beautiful day and I had just been driving through Manhattan, and I saw Margo. And I said, you know, I just desperately want to take a walk through Central Park again, and just remember what that feels like. But the problem is, obviously, it's hard to do now. And so my idea has been to see if I was–if I got a disguise could I pull this off."
According to the president, Ms. Lion tried to help him, but their plan didn't earn the approval of the Secret Service.
"Margo thought about it, and about a week later I got this fake moustache that I guess she got from one of the makeup artists on Broadway. And I tried it on and I thought it looked pretty good," said President Obama. "But when I tested this scheme with the Secret Service, they said it didn't look good enough."
Though their plan was initially unsuccessful, President Obama said he might try to take a top secret Central Park stroll again one day.
"I have kept this moustache just in case in the second term I … so if a couple years from now you see a guy with big ears and a moustache just pretend you don't know who it is. Just look away," he said.