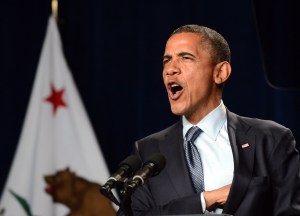 President Barack Obama explained told an audience at a fundraiser in Philadelphia last night that he has much less in common with Mitt Romney than he did with his opponent in 2008, John McCain.
"The choices in this election could not be starker," President Obama said. "Back in 2008, I had some strong disagreements with John McCain, but there were certain baselines that we both agreed on. We both agreed on things like immigration reform. We agreed on the existence of climate change. We agreed on the need to control campaign finance spending. This time out, across the board, there is just a fundamental disagreement, a difference of vision in terms of where we want to go."
The president explained that the key "question in this election is going to be whose vision is most likely to lead us back to a point where economic growth is strong and is steady and is broad-based so that people who are willing to take initiative and work hard can succeed." He went on to say Mr. Romney's vision for the country boils down to two main ideas.
"Governor Romney's vision is pretty much in sync with the vision of the House Republican Party right now, and it can be described basically with two ideas," said President Obama. "One is that we need to slash taxes even more, particularly for the wealthiest, most successful among us. And two, we need to eliminate any kind of regulations, whether consumer or worker regulations or environmental regulations, that in any way impede the free market from operating however it will."
President Obama explained that his plan for the nation involves working on eliminating the national debt while also leaving room to invest in education, research and infrastructure.
"The vision that I'm presenting in this campaign is consistent with what we talked about in 2008," he said. "And that says, government can't solve every one of our problems and it shouldn't try, that there are some government programs that don't work and should be ended, and there are some things that have to be done at a local level, but there are also some things that we have to do together."
Based on his schedule for the coming week, it's clear President Obama plans to continue pushing the idea that this election is a contest between two visions. By characterizing Mr. Romney's platform as in opposition to his own and also to Mr. McCain's, President Obama is clearly trying to capitalize on the Arizona Senator's appeal among swing voters. It's a good strategy, but it may be dependent on Mr. McCain, who endorsed Mr. Romney in January, keeping quiet and playing along. Based on the bittery rivalry Mr. McCain and Mr. Romney fought in 2008, he might just be willing to do that.