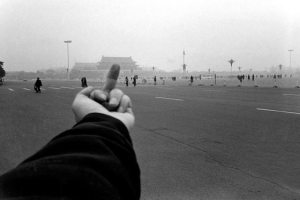 Producers of the film Ai Weiwei: Never Sorry, which documents the life and plight of Chinese artist and dissident Ai Weiwei, have launched a campaign across social-networking platforms with the hashtag #RaiseYourFinger to create buzz in anticipation of the film's release—it opens in New York on July 27. The producers are inviting fans of Mr. Ai to submit photographs of themselves raising their middle-finger "to symbols of injustice."
The Los Angeles Times reports on the campaign, which is a tribute to Mr. Ai's "Study in Perspective" series, in which he photographed himself raising his middle finger to various seats of cultural and political power in various cities around the world, such as Paris, Washington, D.C., and Beijing.
From the article:
Participants are asked to submit their photos via Facebook or Twitter. The photos will be assembled into a mosaic and given to Ai upon his release, scheduled for June 22. Given that Ai's recent history with the Chinese government included 81 days of incarceration (as documented in the film), that release date remains a cliffhanger of its own.