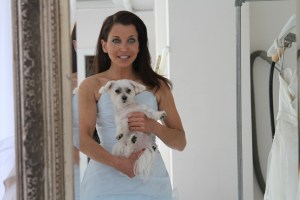 On a Wednesday last week, The Observer scooted into a back booth of the Jumeirah Essex House's dining room for a wedding menu tasting with the perpetually perky Wendy Diamond, founder of Animal Fair magazine. She was in the middle of planning what is expected to be the most expensive dog wedding in history.
It's a surprisingly competitive category these days. Last year in the U.K., registrar Ann Clark officiated at a $32,000 dog wedding … one that included a chocolate fountain that could have literally killed the newlyweds. How's that for lavish?
Surrounding Ms. Diamond at the table was what looked like half of the hotel's PR and dining staff, Gourmet Advisory Services founder Harriette Rose Katz, and two assistants to Ms. Diamond, who were documenting the entire lunch on digital video. Also in attendance was the radiant bride-to-be, Lucky, a Maltese Ms. Diamond adopted in 1999. In July, according to Ms. Diamond, Lucky will be in the Guinness Book of World Records for the most expensive pet wedding, an event valued at $140,000.

This will not be Lucky's first time in the record book either; last year she was officially crowned the animal most photographed with celebrities. (363 and counting). The Maltese has been cuddled by everyone from Barbara Walters to Hugh Grant and Kim Kardashian.
Urged to try to the appetizers created by Jumeirah Essex House's executive chef Nathan Eckhaus and Vijayan Francis, we happily noshed on the tiny gourmet "Snausages," (pigs in blankets), "Kibbles 'n' bits," (a mincemeat cup) and miniature grilled cheese with truffle oil in the shape of a dog bone. Like that chocolate fountain, none of these foods were really suitable for canine consumption. For the four-legged friends on the guest list, there were bone-shaped doggie cookies.
Chris Walters, the director of PR at Jumeirah Essex House, estimated the cost of renting out the hall and catering the event, a first or the hotel, at $35,000. The services of Ms. Rose, one of New York's premiere wedding planners and a personal friend of Ms. Diamond's, command some $50,000.
"We've just gotten back from trying on our dresses," Ms. Diamond gushed as Ms. Rose secretly fed Lucky a human snausage under the table. "They are these amazing light blue numbers designed by Henry and Michelle Roth." The gowns ran $8,000 for Ms. Diamond, $4,000 for Lucky.
Then there were the floral arrangements, the band, the sushi station and the mixologist Ms. Diamond would be bringing in separately, the chuppah (Lucky is Jewish) and the Roberto Negrin–designed dress Lucky had donned for her bridal shower at the Kimpton Muse Hotel.
There is one technical issue with Lucky's Guinness bid. Every element of the wedding and the reception has been generously donated. The Hank Lane Orchestra is playing for free, Floralia Decorators is doing the arrangements at no cost, the hotel is lending the space and the caterers, and Ms. Katz isn't charging for her services. Even those dresses were free.
The most expensive dog wedding in history, and Ms. Diamond isn't paying a cent. Even more bizarre—and how much more bizarre can a dog wedding get, honestly?—Lucky still doesn't have a groom picked out.
Ms. Diamond has made a career off of being a "personality," which is to say that she has made a habit of appearing on various television programs and popping up on Page Six and in other venues. A petite brunette with bright blue eyes, she talks more to the camera that seems perennially to be following her than to us. Her laugh is actually a bark, so loud that the first time we heard it, we literally jumped out of our cushioned dining booth. We were still unsure why there were camera crews filming a menu tasting for a dog wedding in the first place. Were we on a reality show?
"No, they are with me," Ms. Diamond responded, not bothering to ask us to sign release forms.
Ms. Diamond has been dubbed the "Canine Queen" (Forbes), a "Pet Diva" (The New York Post) and the "Martha Stewart of the bone and the milk dish" (The New Yorker). She has popped up in almost every trend story ever taped or written about dogs (Vogue, People, The Oprah Winfrey Show, etc.), and was one of the judges for CBS' 2008 Greatest American Dog. (You may remember Lucky from her own series on the Travel Channel, Lucky's Travels.)
Though she contributes to animal charities, Ms. Diamond's focus is on spotlighting them through her own work as an animal rescue advocate and pet expert. She's written seven books about animals (including How to Understand Men Through Their Dogs and How to Understand Women Through Their Cats), hosted the first-ever pet fashion show, grand marshalled the world's largest dog parade and hosted pet comedy shows. She also launched Animal Fair the same year she adopted Lucky. The magazine (online only) is devoted to tips on how those with attachment issues can spend a lot of time and money on their animals. Bark Mitzvahs, anyone?
"Oh, god, if you think I'm crazy, you should see the retailers who make those little doggie yarmulkes," Ms. Diamond said, rolling her eyes. Then she laughed. Or barked.
But this arranged marriage wasn't merely a stunt to raise money for one of Ms. Diamond's animal causes (though it was that as well). In February, Lucky was diagnosed with cancer of the spleen; the disease has metastasized, and though Ms. Diamond has changed her dog's lifestyle and eating habits, the doctors have given the Maltese three months to a year to live. Thus the rush to find an eligible suitor for Lucky, in the form of an online contest, where anyone can enter his or her pets. ("It doesn't have to be male … or even a dog!" Ms Diamond, a true progressive, told us proudly.) Then Lucky's fans will "vote" on their 10 favorites, though Ms. Diamond will make the final determination on Lucky's behalf. The finalists get to come to the ceremony as a consolation prize.