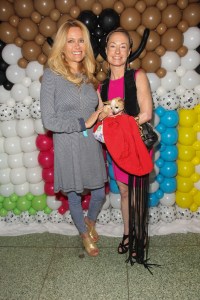 Hindu priest Robin Cofer also has a bone to pick with Ms. Diamond's approach to non-human theology. Seated in the kitchen of her 6,000-square-foot penthouse atop the Trump World Tower, the wife of Sway nightclub owner and real estate mogul Dominick D'Alleva lovingly stroked her shelter-rescued Chihuahua, Yoda, and tried to be diplomatic. "As long as the animal is happy and comfortable, that's all that matters," she said. Ms. Cofer had recently offered a ritual blessing during publicist R. Couri Hay's dog christening of his long-haired Cavalier King Charles Spaniel. This event was attended by Ms. Diamond, as well.
Ms. Cofer was ordained as Swami Pranavananda in 2008, after five years in a Chicago seminary. She is qualified to perform most types of ceremonies, though she usually sticks to human weddings.
"I'm fine with animal ceremonies, as long as it's about the animals, and not about the owner," said the thin, lithe blonde when we broached the subject of dog weddings. "The point of a blessing, or a ritual, is to transmit energy. So I don't really understand how dogs can be 'married,' since they don't understand the concept." Ms. Cofer wore yoga pants and had her hair in a messy bun. A soundtrack of chanting monks could be heard throughout the massive space.
During our chat, Ms. Cofer's friend and business partner, Leesa Rowland, arrived for a meeting. The two women are in the process of opening Animal Ashram, a no-kill animal shelter that will also offer pujas for pets and humans, as well as yoga (pet owners do the poses; animals merely observe).
Ms. Rowland, a brash Texas blonde right out of Real Housewives (she will make several appearances this season) and an actress best known for her work in various Troma horror films, has gone undercover at puppy mills and frequently rails against the "pet industry" as the New York liaison for Last Chance for Animals.
Though a friendly acquaintance of Ms. Diamond's, she too had a bone to pick with Lucky's nuptials.
"This all about Wendy, not the dog," she snapped. "It's a gimmick, and we're not into gimmicks."
Later that week, we see Ms. Diamond run into Ms. Rowland at a premiere party for the new season of Real Housewives.
"Are you coming to Lucky's wedding?" Ms. Diamond asked after the obligatory cheek-kiss.
"You didn't invite me," Ms. Rowland frowned.
"Oh, you have to come!"
As we were leaving the hotel after our lunch date with Lucky, we rounded the corner of the lobby to see Ms. Diamond accosting a dead-ringer for the Indian from One Flew Over the Cuckoo's Nest. In his hands was the smallest, cutest puppy The Observer had ever seen.
"Gene, Gene!" Ms. Diamond shrieked, addressing the KISS singer Gene Simmons as if they were old friends. "You are coming to Lucky's wedding, aren't you? You have to come! And I have to get a photo of your dog and Lucky."
Mr. Simmons semi-obliged, holding up his fur ball ("It doesn't have a name yet," he told us) and posing while Ms. Diamond held up her own beloved pet; later she would tell us that since Mr. Simmons wasn't holding her dog, the photo wouldn't make it into the official celebrity photo tally for the luckiest dog in the world.
Update: In a terrible case of timing, Lucky the dog died last night from metastasized spleen cancer. Read the update and obituary here.