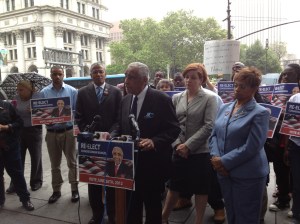 City Council Speaker Christine Quinn backed Charlie Rangel in his tough re-election campaign, lauding the longtime Harlem pol's reputation as a fighter on the forefront of battling discrimination and supporting equal rights — and LGTB rights in particular.
"Go back and look at the record. Who was one of the first leading African American officials in this country to speak out in full support of marriage quality for the LGBT community? Charlie Rangel. Who has always been there for the LGBT community? Charlie Rangel," Ms. Quinn said.  The congressman, she added,  was among the guests at her wedding in March to long-time partner Kim Catullo.
Ms. Quinn is right. Mr. Rangel has indeed been active in supporting the LGBT community in New York and beyond. He stood firmly with Nancy Pelosi in repealing Don't Ask Don't Tell. He is a co-sponsor of the Respect for Marriage Act, the Employment Non-Discrimination Act, and the Student Non-Discrimination Act. And he recently issued a press release commemorating June's National LGBT Pride Month, drawing parallels between the fights for civil rights regardless of race and sexual orientation "Sixty years ago, draconian hate laws made interracial marriage illegal in this country," the statement said. "Today, similar laws bar LGBT individuals from expressing their love to one another."
Moving beyond Mr. Rangel's support for LGBT rights, Quinn painted a picture of Rangel more certain to woo his 15th district voters — Mr. Rangel as an American hero, a veteran who "put his life on the line to protect our freedom in the Korean War, literally almost losing his life. It is that kind of heart and soul that we need to keep in Congress."
The Speaker then finished her speech with a list of wide-ranging reasons to support the Democratic candidate.
"At a time in Congress when doing nothing seems to be okay. We have real challenge. We need immigration reform, we need support for cities like New York so we don't face the horrible budget cuts that are still looming, we need support in the fight against HIV/AIDS in urban America as well as other parts of this country, we need to get the employment nondiscrimination act passed, we need to get the Defense of Marriage Act taken off the books," she said. "That and million other reasons is why we need to send Charlie Rangel to Congress."
But she didn't leave the podium without a touch of humor. "I am so excited to be here to day, and even more excited for the victory party."