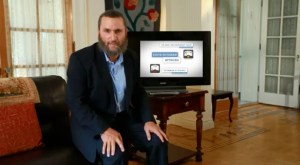 Author, spiritual guru to the stars and New Jersey Republican congressional candidate Shmuley Boteach gave a $250 donation to his Democratic opponent, Congressman Bill Pascrell, because he wants them to have a Shabbat "dinner date." together. In a statement announcing his donation to his rival, Mr. Boteach explained he made the contribution to get Mr. Pascrell's attention after several unsuccessful attempts to arrange a meal together.
"I'm beginning to feel like the woman who is promised an engagement ring but can never get a wedding date. The Congressman is a very busy man. So I have elected to send a $250 donation to his campaign in the hope that it might attract his attention and we can finally confirm our dinner date," Mr. Boteach said. 
Mr. Boteach said he wants to celebrate the Shabbos with Mr. Pascrell so they can get to know each other on a more personal level.
"I asked Congressman Pascrell to join me for Friday night Shabbat dinner at my home so that he and I could discover each other as people rather than opponents. He publicly confirmed that he had accepted my invitation but, try as we might, we cannot get him to confirm a date," said Mr. Boteach.
Mr. Pascrell's spokesman Ben Rich tells us Mr. Pascrell has every intention of having dinner with Mr. Boteach–but he wants to wait until after the election in November so the meal doesn't become "a campaign public relations photo op."
"Congressman Pascrell has had a busy month with a major election, events in New Jersey and votes in DC," Mr. Rich said. "In keeping with the spirit of the invitation and preventing the dinner from becoming a campaign public relations photo op, the congressman intends to take the Rabbi up on his offer after Election Day."
(Updated 12:52 p.m. to include Mr. Rich's comment.)