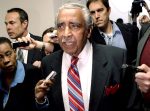 Charlie Rangel did a rather amazing interview with Juan Williams of Fox News Latino yesterday that centered around the question of how Mr. Rangel can win in a majority Latino district, and whether or not this campaign will cause a rift between blacks and Latinos.
It was amazing for several reasons.
First, Mr. Rangel pointed out to Mr. Williams that this is not the first time that he has received a challenge from a Latino.
You are passed over Adam Clayton Powell, who was a candidate against me who was born in Puerto Rico which shows you how little difference it really makes in a campaign. Because the fact that he was born in Puerto Rico was never never never an issue in that campaign. And the fact that I won in all the Puerto Rican districts.
Mr. Rangel is correct on both counts–Adam Clayton Powell IV was born in Puerto Rico, and it wasn't an issue in the campaign, but part of the reason for that was that Mr. Powell never really identified strongly as a Latino in public life, partially because he is the son of one of the most famous African-American leaders in the country.
Regardless, then Mr. Rangel went off the rails a bit.
He said that this is "the first time that a public official–a public official–has ever challenged me in the district."
This is not technically true, since Mr. Powell was a Assemblyman when he challenged Mr. Rangel in 2010, and a City Councilman when he did so in 1994.
Pressed on whether or not the campaign with Mr. Espaillat will cause a rift in the community, Mr. Rangel responded,  "Not politically. He only has two—and I am trying to think of who the second might be— let me say this he only has one elected person of Dominican background supporting him and no Latin person of background."
At which point Mr. Williams interjected to point out that Mr. Espaillat has been endorsed by two former borough presidents of the Bronx, Freddy Ferrer and Adolfo Carrion.
To which Mr. Rangel responded, "Well, I've got the present one and his daddy and the entire Manhattan and Bronx delegations."
In fact however, Mr. Espaillat has several Dominican supporters in elective office, including City Council members Ydanis Rodriguez and Julissa Ferreras, State Senator Jose Peralta, Assembly members Nelson Castro and Rafael Espinal, and several non-Dominican Latino supporters, including State Senator Gustavo Rivera and Assembly member Phil Ramos.
Also, while Mr. Rangel does indeed have the support of the present borough president–Ruben Diaz, Jr–he doesn't of "his daddy", State Senator Ruben Diaz, who called on Mr. Rangel to stay out of  the Bronx and in 2010 backed Mr. Rangel's Republican opponent.
Mr. Rangel went on to express the hope that his his record would trump ethnic concerns.
What happens is which is difficult and awkward is that if you are Dominican and you see a Dominican running to become president, to become governor,  no matter what, you tell your son,  'Hey if he can do it you can do it.'  On the other hand if you got problems like unemployment, Social Security, Medicaid, Medicare and there is guy that has always been there for you and for your family then you say,  'He is a nice guy. I don't know where he came from, how long he has been here but Charlie Rangel is the man.' And that is what I am relying on.