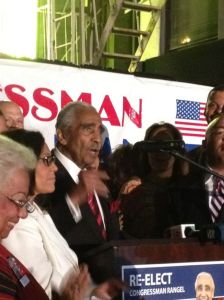 After 41 years in the House of Representatives, Congressman Charlie Rangel faced the fight of his political life last night and came away with a victory. Mr. Rangel's 22nd term in Congress was threatened by the changing boundaries and demographics of his district, lingering fallout from a tax and fundraising scandal that saw him censured for ethics violations by his House colleagues in 2010 and health issues that sent the 82-year-old in and out of the hospital for two months earlier this year. In a victory speech made from a makeshift stage set up in front of Sylvia's restaurant in the heart of his longtime base in Harlem, Mr. Rangel praised his supporters, political allies and family for sticking with him through the difficult campaign. He also had harsh words for the press and the rivals who attempted to end his political career.
"I also want to publicly thank my wife," Mr. Rangel said. "I forgot exactly what the contract was all about, it's been so long ago, but I'm certain it didn't include all of the bumps that she has gone through with me. Especially with the press that has been so hostile at times, of course, the health problems that I have had."
Mr. Rangel suggested the candidates who ran against him underestimated him due to his medical difficulties. He made it clear this was a mistake.
"I hate to disappoint my opponents for misjudging the importance of medical science when it comes to being ill," Mr. Rangel said.
His health was one of several factors that was seen as potentially weakening Mr. Rangel in this election. The redistricting process and years of demographic shifts saw Mr. Rangel's district expand from his Harlem stronghold to include portions of the Bronx and a Latino majority that seemingly favored his opponent, State Senator Adriano Espaillat, who would have become the first congressman of Latino descent if he managed to defeat Mr. Rangel.
Now, after winning this race, it is Mr. Rangel who is making history. His staff said his victory will make him the first African American congressman elected in the Bronx. In his election night speech, Mr. Rangel, who stood before a sign dubbing him "The Lion of Lenox Avenue" in Harlem, assured the audience he knows what needs to be done to serve his new constituents in the Bronx.
"Every hope and dream we've had on Lenox Avenue is the same thing they've had on Fordham Road," Mr. Rangel said.
Mr. Rangel also addressed his doubters, specifically the newspaper editorial boards who endorsed one of his rivals, Clyde Williams. He called the boards "strange people" for failing to recognize he was the best candidate in the race.
"The surprising thing is, some of the editorial boards–and I recognize they're special people–they thought otherwise even though they didn't know who was running against me," Mr. Rangel said. "When I asked them, 'Who are these people and what have they done?' They looked just mystified that you would challenge the editorial board."
Mr. Rangel finished his speech by vowing to prove to these "strange people" that he deserved to be re-elected.
"If they didn't think after 42 years that I was the best qualified, I promise them that, in the next two years, they'll have no question about the fact that you elected the best," said Mr. Rangel.