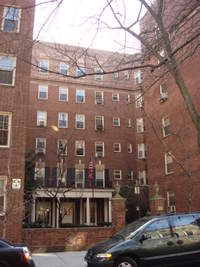 It's time to add a new address to the Girls map: Lena Dunham has snapped up a one-bedroom apartment in Brooklyn Heights. It's a big change for the famously reluctant-to-leave-home Ms. Dunham, who will be departing, presumably for good, from her parents' Tribeca loft. But nothing too jarring—at least she'll be surrounded by people her parents' age when she steps outside her door!
"We lived there all through my high-school career, so I have an intense attachment to it," Ms. Dunham said of the neighborhood in this week's New York Times Magazine. "Other people think of Brooklyn Heights as where you become elderly, but I think of it as where you try pot for the first time."
So where has Ms. Dunham landed? An 800-square foot co-op apartment at Mansion House, the RealEstaker reveals. City records show that Ms. Dunham paid $500,000 for the pad at 145 Hicks Street in mid-March, a few weeks before her show first aired. We guess she was feeling pretty confident about the whole thing?
Alas, the apartment, formerly owned by the Estate of Charles Dolan, was never publicly listed, so we cannot compare it, room by room with Hannah and Marnie's Greenpoint apartment. All we know is that it required some "vague remodeling" and "painting of dank walls," as Hannah tells the NYT Mag. But at least the building has a doorman?
kvelsey@observer.com