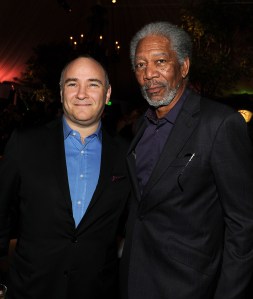 There's nothing like a pre-holiday Friday afternoon news dump. While just about everyone is off drinking on a patio somewhere, we imagine, toasting to Katie Holmes's freedom and Adele's spawn, Adweek confirms WWD's report that Prometheus Media CEO Richard Beckman is stepping down.
Adweek says it was by "mutual consent," but Mr. Beckman's exit has been rumored in the New York Post for just about forever. A former Conde Nast and Fairchild executive, he was hired to breathe some life into trade publications The Hollywood Reporter, Adweek and Billboard. For example, brought in Us Weekly's Janice Min, who turned THR into a glossy magazine and must-read website for breaking news. But about a year ago, Mr. Beckman abdicated some of the daily oversight of the company to spearhead international brand development, prompting reports that he'd been demoted after clashing with Prometheus Global Media chairman Jimmy Finkelstein. (Mr. Beckman denied this.) Speculation escalated after Michael Wolff, Mr. Beckman's hire for the top of Adweek, was pushed out in October.
Click through to Adweek for quotes in which Mr. Beckman and Mr. Finkelstein wish each other the best.