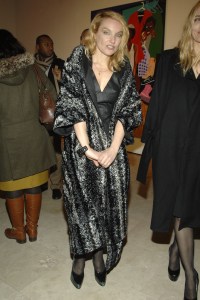 Over at Interview, there's a nice long talk between the painter Rita Ackermann and Angus Cook:
COOK: Do you think your speedy thinking derives in any way from your upbringing in Hungary?

ACKERMANN: It's so interesting and somehow so human that we always try to blame our backgrounds or upbringings on how we've turned out. Actually, I think it's very little to do with that. Everything was fine for me growing up. My parents were great. We had a great time together. Communism was a fantastic background to grow up against because it was so simple, so safe—a bubble upbringing.
She also mentions that John McEnroe is her favorite tennis player. Have a look at the rest of it here. Ms. Ackermann has a show right now at the Journal Gallery in Williamsburg.