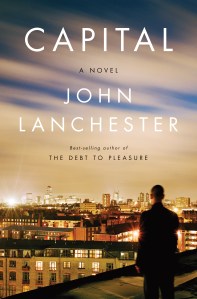 In 2010, the English novelist and critic John Lanchester published a book about the credit crisis of 2008. It's called I.O.U. Presented as a guidebook to the dark side of fiscal complexity, I.O.U. also covers simpler terrain. Half of its usefulness lies in the author's talent for unraveling the deviousness of modern finance, but the other half lies in his willingness to explain, and then punctually re-explain, the basics of how money works. The pyrotechnic frauds and cutting-edge ruses that impelled the credit crunch are exposed—and sometime before that there's a set of instructions about how to draw up a balance sheet. This was a winning formula; I.O.U. became a bestseller. It can't have hurt that Mr. Lanchester is a witty and likeable writer, and that his conclusions are so passionately fair-minded. After three decades of the rough-and-tumble of laissez-faire boom and bust, Mr. Lanchester proposed we smarten up and just shrink: "We in the West can do something that no people in history have done: we can show the world that we know when we have enough."
With the guidebook behind him, Mr. Lanchester set to the task of writing a Big Book, for which he has chosen a high-profile title: Capital (W.W. Norton & Company, 528 pp., $26.95). This new novel opens in the winter of 2007 in London, and it ends there a year later. It is the chronicle of an annus horribilis in the big city. Ruptures are appearing in the real estate bubble, there's been a run on Northern Rock bank, and a rising fever of paranoia afflicts the globe's financiers. This is Capital's point of departure; as we all know, the decline from here will be drastic.
It's possible that no single person leads an exemplary financial life, or has a particular experience of money capable of standing in for the universal experience. Being poor is so unlike being rich—which is so unlike being middle class. Wanting is so much different than having. It may be that this is true—which in turn may explain why, in lieu of focusing on a single character, Mr. Lanchester focuses on a road: Pepys Road, on which "history had sprung an astonishing plot twist": "all of the houses in Pepys Road, as if by magic, were now worth millions of pounds."
A postal code, then, in place of a protagonist. It's quite a mandate for a novelist. "One thing about London," as a character thinks at one point: "there was a lot of it." And there's a fair bit of it just on Pepys Road: The plot of Capital has more strands than a bowl of spaghetti. As well as the inevitable banker plot, which provides something like a center of gravity, there's a terrorist plot, a soccer plot, a dying grandmother plot, a Zimbabwean refugee plot, a Polish builder plot, a Hungarian nanny plot, a Pakistani family plot, a few lawyer plots, a postal harassment plot and a plot about a Banksy-like guerilla artist. This last character is the dying grandmother's grandson: Graham, aka "Smitty." The lone artist among the dramatis personae, Smitty is—of course—ruthlessly acute about money, a fact relayed without much subtlety. "You can't commodify this shit," Smitty says of his anonymity to the public. "Which is the whole point. But it adds to your mojo, to your aura. And that allows you to make shit you can sell. See?"
Riding alongside the main plots are the subplots and their side characters: the bored policemen, the scheming subordinates, the chucked girlfriends. If this all sounds slightly hysterical—well, it is. But it's not as hysterical as it must sound. At 500 pages, Capital is a quick (relatively) and coherent read. One factor in this is undoubtedly Mr. Lanchester's grace as a stylist. Another is the novel's suspensefulness, its bag of middlebrow tricks. There are twists, reversals, cliffhangers, sentimental payoffs. But the major factor is that Mr. Lanchester is skilled at the business of composition. All the disparate pieces of Capital line up—and are enriched by their alignment. And the pacing, the sense of overall development, doesn't flag. However you feel about the results, you must concede that as a feat of narrative engineering, Capital is—to quote Mr. Lanchester's verdict on one failed financial instrument in I.O.U.—"very, very clever."
Capital doesn't have a hero, but it does have a character who seems to have auditioned, at some point, for the role, the banker Roger Yount. "Looking at him, women would often find themselves wondering: tall, rich, well-dressed, clean: why isn't he sexy?" This dapper clunker has a plum job, a pretty wife, a swanky townhouse. Yet the lifestyle turns out to have the same quality of sterile luster as the man to whom it belongs. Roger's useless at work, for instance. Finance has been mathematized, and though he's a boss, Roger in practice defers to his deputy, a nerd of writhing ambition named Mark. Roger's wife, Arabella, is also disappointing: a frigid spendthrift, a fiend for spas and a spacey parent to the two Yount children. "Arabella knew that if she drank any more she would have a hangover," Mr. Lanchester writes, "and part of the point of being in this luxury spa was to go home looking and feeling fabulous, so she went to her room and read a novel set in Afghanistan." She is the most repulsive character in the book.
The Younts are poised for a comeuppance, and though he's not credited with much intelligence Roger senses this. One of the running jokes of the novel's early pages is Roger's campaign to persuade himself that he merits a £1,000,000 bonus. It's a sum he's overextended enough to need but still lucid enough to find absurd: "The figure of £1,000,000 had started as a vague, semi-comic aspiration and had become an actual necessity, something he needed to pay the bills and set his finances on the square." One thing that poverty does to people is exercise editorial restraint on their lifestyles, but for Roger that restraint has relaxed; his life has become a "semi-comic" extravaganza of self-pampering. It's a condition of self-caricature.
Capital could be criticized for its reliance on exaggerated stock types: the gruff Pole, the vapid blonde, the boisterous Pakistanis, the jaded policeman, the puritanical young Muslim. But the problem is really that it doesn't exaggerate enough, that Mr. Lanchester doesn't let his characters become grotesque. For a novel called Capital, it contains less decadence than you might expect. One novel it invites comparison with is Martin Amis's Money, and it's an instructive comparison. Mr. Lanchester doesn't have Mr. Amis's relish for excess, for distemper; he never thrills to the infamies of his characters. I.O.U. is a book much given to nostalgia for "old-fashioned" fiscal conduct—for the days before "the idea of value" was "replaced by the idea of price." Sometimes you wonder if Mr. Lanchester's rational distaste for the vulgarities of the financial present hasn't hampered his novelization of it.
And yet that doesn't make the distaste any less compelling. "This just wasn't enough to live by," Roger thinks after the fall. "You could not spend your entire span of life in thrall to the code of stuff. There was no code of stuff. Stuff was just stuff. You couldn't live by it or for it. Roger's new motto: stuff is not enough."
editorial@observer.com