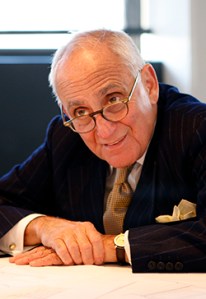 Robert A.M. Stern, that dapper dean of old-school architects, sits down with The Times for one of its patented 30-Minute Interviews today.
There's an interesting discussion of why 15 Central Park West is the bonanza that it is, and why Mr. Stern does not live there because of it (he likes the windows at the home he built for himself inside another project, The Chatham). But what really struck us was his song and dance about starchitects, and basically how the rest are pretenders.
Q.You've also been referred to as a "starchitect."

A. That's a term used for a lot of people. But since my name is Stern and "Stern" means star, I think that's perfectly good. It's all the other people that are intruding.
Robert A.M. Stern—smart as the buildings he designs.