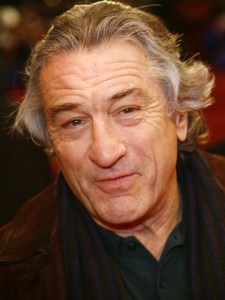 Lint: scourge of common folk and stars alike. Not only has it brought down many a beautiful garment, but on Friday it nearly destroyed Robert DeNiro's building at 88 Central Park West.
A lint buildup in a clothes dryer set the posh building on fire, damaging not only Mr. DeNiro's apartment, but every other apartment on the fifth floor, as well as those on the fourth and sixth, reported the New York Post.
"Right above my head these 12-foot-tall flames exploded out of the fifth-floor window," passerby Nathan Bear told the Post.
No wash and fold for Mr. DeNiro! Although the star is, apparently, out of the country, so it's not like he was doing his own laundry. Which brings up one of the more pressing social issues of our time—who bears responsibility for lint traps in the days when household staffs, a la Downton Abbey, have gone the way of washboards? A patchwork of service professionals—housekeepers and maid services and personal assistants—while more palatable to our modern sensibilities, can leave dangerous gaps in domestic duties.
Fortunately, Mr. DeNiro's broker son Raphael can almost certainly find a place to put his dad up when he returns. And, in the spirit of neighborliness, we would also suggest finding rentals for the other displaced residents, although preferably on the ground floor. Along with cleaning lint traps, the residents of 88 CPW seem to have missed the first rule of fire safety.
"I'm lucky the elevator still worked," a sixth-floor resident who said she found it difficult to breath in the dark, heavy smoke told the Post. "That's how I was able to get out."
kvelsey@observer.com