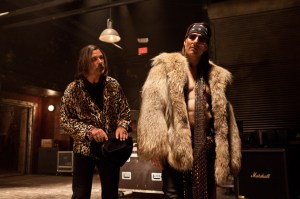 As rock musicals go, Rock of Ages can't go fast enough. This sloppy freak show is two minutes shy of two solid hours of screaming swill, without a shred of freshness, insight, cleverness or coherence to be detected within a two-mile radius. It's based on a noisy Broadway jukebox joke that was never much to write home about in the first place, but it still had a soupçon of humor and banal charm, both of which are bewilderingly missing on the screen. The fact that the show is still running testifies to the confounding disregard for taste and intelligence rampant among today's mass-market audiences. I haven't seen a movie this bad since Battlefield Earth and Howard the Duck.
There is no plot, but you can write the outline for the one that's missing on your fingernail. Stupid girl from Oklahoma boards a Greyhound bus for drug-addicted, sex-crazed Hollywood to become a rock star and meets a janitor who also wants to be a rock star. She ends up stripping, he ends up in a boy band, and the story ends up in the hopper with the rest of the clichés. The two-minute story threatens to drag on for years, populated by amplified wack jobs shrieking lyrics that cannot be translated and spitting dialogue so filthy it can't be repeated. The director is a fraud named Adam Shankman (Hairspray) who is so inept he has a hard time figuring out if there's any film in the camera. Hollywood blackmail comes in all sizes, but I shudder to think what it took to trap otherwise respectable people like Alec Baldwin, Tom Cruise, Paul Giamatti and Catherine Zeta-Jones into this kind of unsalvageable garbage.
Hate sets in early. Sherrie from Tulsa (rock singer Julianne Hough) boards the Greyhound and all of the other passengers burst into song, including the children. Arriving in the middle of a parody of the Sunset Strip in the 1980s, her suitcase full of Twisted Sister albums is immediately stolen, but the prancing drug dealers and prostitutes are as cheerful and friendly as extras on The Donna Reed Show. In minutes, a janitor and wannabe rock icon (singer Diego Boneta, eons away from star status) lands Sherrie a job in the Bourbon Room, a cross between the old Whiskey a Go-Go and the noxious Viper Room where River Phoenix took the cab. It's a hellhole, run by a fat, greasy cretin in a long Cher wig (Alec Baldwin) and threatened with police raids and foreclosure warnings by the new mayor's wife (Catherine Zeta-Jones), who dedicates herself to cleaning up the crime and vice that has taken Los Angeles captive. She organizes church groups to shut down the Bourbon and destroy the career of Stacie Jaxx, an alcoholic, terminally stoned, oversexed dope fiend played by a half-nude, tattooed Tom Cruise with extended nipples, black fingernail polish, a pet baboon who mixes his drinks and a lot of hair below his belly button that would, back in the day, have caused a riot at the Hays Office. It's supposed to be a "brave" example of a fearless actor doing a stretch, but he looks more like an androgynous addict at the New Orleans Mardi Gras who has been spending entirely too much time in the wrong kind of massage parlors.
Between a barrage of unspeakable assaults on the eardrums by groups called Arsenal and Concrete Balls, the mayor's wife, who reveals she once spent the night with Stacie Jaxx unconscious from drugs and multiple orgasms and never got over it, sings "Hit Me With Your Best Shot" while the mayor is getting spanked by his S&M secretary. "Listen up," says Mr. Baldwin, preparing his teenybopper clientele for Stacie Jaxx to turn the Bourbon Room into a Xanadu of "sweat, ear-shattering music and puke—so let's get going!" Ms. Zeta-Jones remembers the night he made her "feel like a woman", covered with Cool Whip and Wild Turkey. Ms. Hough tells the rock superstar, "When my hamster died, your music really, really helped me through." The audience at the screening I attended was laughing so hard I missed a lot of the sub-mental dialogue, but who could miss Alec Baldwin, in the lowest point and most embarrassing mistake of his career, bellowing "I just vomited—in my pants. It came out of my ass." The filthy, disgusting script is by three people who should remain nameless, but I can hardly believe one of them is Justin Theroux, a good actor who would do the world a favor if he dropped his laptop off the top of the Chrysler Building. Mary J. Blige drops by to offer sage advice ("It's not fame and fortune you came to L.A. looking for—it's love. And love left this place a long time ago!") Tom Cruise gets a reporter from Rolling Stone pregnant and ends up on the toilet floor covered in condoms. It's about as entertaining as an iron lung.
I can understand the perverse temptation to make money by appealing to the base instincts of an ever-increasing audience of fools, but this assault on the IQ is where people with self-respect should draw the line. Rock of Ages is so bad it makes Burlesque look like an underappreciated masterpiece.
rreed@observer.com
ROCK OF AGES
Running Time 123 minutes
Written by Justin Theroux, Chris D'Arienzo, Allan Loeb and Chris D'Arienzo (musical book)
Directed by Adam Shankman
Starring Julianne Hough, Diego Boneta and Tom Cruise
0/4