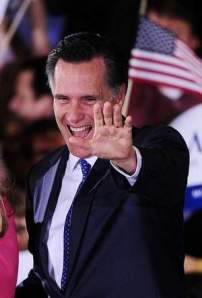 This morning, Mitt Romney's campaign policy director Lanhee Chen, his deputy communications director for media affairs Kristy Campbell held a conference call with the press to "discuss the latest in a series of devastating economic news and President Obama's record of failing to put America back on a path to prosperity."
However, all three of the questions from reporters on the call were about what Mr. Romney's position is on President Barack Obama's newly announced immigration policy. Despite the clear connections between immigration policy and the job market, the Romney campaign staffers repeatedly dismissed the questions as "off topic" before ending the call entirely.
On Friday, President Barack Obama issued an executive order that will halt deportations for many young undocumented immigrants and increase the number of work permits issued to them. In an appearance on CBS' Face The Nation Sunday. Mr. Romney avoided directly answering whether he'd repeal the order instead saying he's focused on an unspecified "long-term solution."
All three of the reporters who were allowed to ask questions on today's economic policy call tried to figure out what that solution would be. A reporter from Sirius XM was the third and final member of the press corps who attempted to get Mr. Chen to address whether Mr. Romney thinks the executive order on immigration is good economic policy.
"President Obamas' executive order that allowed some 800,000 illegal immigrants to remain in the country, in your view Lanhee, will that help or would that hurt the U.S. economy?" the reporter asked.
Mr. Chen declined to answer, but he promised Mr. Romney would outline his position on immigration policy in his speech tomorrow at the conference of the National Association of Latino Elected and Appointed Officials.
"Governor Romney is going to address immigration tomorrow when he addresses NALEO and it's an important issue and I hope you'll stay tuned to the governor's remarks," said Mr. Chen.
With that, though The Politicker was queued up to ask a question, Ms. Campbell concluded the call by claiming that it appeared there were no more questions.
"It sounds like we don't have anymore questions on today's topic, we appreciate everyone having the opportunity to dial in today," she said.