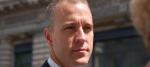 Last week, The New York Times gave its all important endorsement to Rich Becker in the Democratic primary for the Hudson Valley seat held by Republican Nan Hayworth.
Mr. Becker, a doctor and a village lawmaker in Westchester, is locked in a tight race with Sean Patrick Maloney, a one-time Eliot Spitzer and David Paterson aide and former White House official who has received the backing of Bill Clinton. However, The Times  wrote that, "We are concerned about his work with former Gov. Eliot Spitzer.  During an investigation of  'Troopergate,' he appeared to be most interested in holding back the staff's personal e-mails from investigators."
As often occurs, the paper's editorial board threw some praise Mr. Maloney's way as well, calling him someone with "sound ideas" and noting the endorsement of the former president.
And naturally, it is this language which made its way into a mailer that Mr. Maloney sent to voters in NY-18, along with a picture of him with his actual endorser–President Clinton.
The flyer was sent to the home of a supporter of Mr. Becker who sent it to The Politicker.
Mr. Becker meanwhile has been touting his actual endorsement from the gray lady in his mailers. 
The Maloney mailer can be viewed in full below:
[scribd id=97940004 key=key-1uo57n5e2vh1n2ujuwif mode=list]